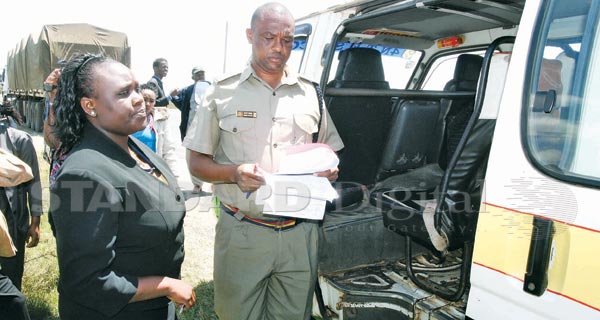 By Antony Gitonga
Naivasha, Kenya: Public transport along the Nairobi-Nakuru highway was paralysed following a major crackdown on defective and speeding vehicles.
The operation near Gilgil town conducted by traffic, judicial and prison officers saw motorists pull their vehicles from the busy highway for fear of arrest.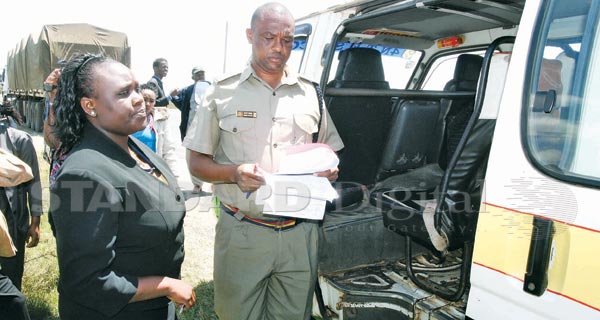 Following the day-long operation, members of the public were forced to walk for kilometres after matatu operators plying the route opted to ground their vehicles.
Led by Rift Valley traffic boss Mary Omari, the swoop saw tens of drivers arrested and arraigned at the roadside court before Naivasha Resident Magistrate Electa Riany.
Addressing the Press, Omari said the move was part of an ongoing national road safety campaign meant to restore sanity to the country's roads.
"We have so far arrested 29 suspects, majority of them matatu drivers, for flouting various traffic rules and this operation will continue," she said.
National Transport Authority official Cosmas Ngeso noted that drivers were now keen on traffic rules since the campaign started last week.
"We have seen the demand for speed governors increase and this operation will continue in all parts of the country," he said. But matatu operators have complained bitterly about the ongoing exercise, terming it inhuman and unfair.
Human face
Nakuru Central Rift Matatu Operators Chairman Steven Muli lamented that fines imposed on those caught in the wrong were too high and therefore beyond many drivers' ability to pay.
He said that during a matatu operators' meeting with the Head of State, they were promised that the crackdown would have a human face.
"Many of our drivers will be spending the night in jail as the fines slapped on them are too high," he said.
Motorists said they had been inconvenienced by the swoop, saying the process was too slow.
"We welcome the crackdown as it is meant to reduce the number of accidents but the exercise is very slow and many of us are travelling very far," said Amos Mibei.
What Are Your Thoughts
Share with us what you think about this article