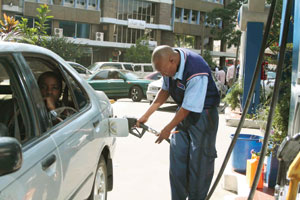 Consumers will now dig even deeper into their pockets after the Energy Regulatory Commission raised fuel prices yesterday. Citing the weaker local currency and slightly higher international fuel costs, ERC increased pump prices for petrol, diesel and kerosene for mid-August to mid-September
From today, the price for a litre of super will rise Sh1.28 to Sh117.22, while Diesel has gone up Sh2.86 to Sh108.97. Kerosene, which is used mostly for cooking by those in the lower economic belt, will now retail at Sh88.96, up from Sh86.18.
Residents of Mombasa will also pay more for fuel. Diesel prices have gone up from Sh102.88 to Sh105.73, while the price for super rises to Sh113.44 from Sh112.12. Kerosene prices jump almost Sh3 from Sh83.37 to Sh86.16. The price of regular petrol also rises to Sh113.84 from Sh112.43.
ERC blamed the price on the marginal increase in international prices of crude oil and the slide in the value of the Kenyan currency.
 Mean rate
"In July 2011, the price with Murban crude increased to $113.95 per barrel up from $112.5 in June 2011. The mean exchange rate deteriorated to Sh90.25 from Sh89.02 in the same period," said ERC's Director General Eng. Kaburu Mwirichia.
Fuel prices are a key driver of inflation in the country. The inflation rate rose for the ninth straight month in July to 15.5 per cent, and the increase in the price of diesel — which is crucial for transportation, power generation and agriculture — and kerosene, could push the inflation rate even higher.
The news also coincides with a recent warning from the Energy Permanent Secretary Francis Nyoike that electricity prices may also shoot up if the shilling weakens further against major world currencies.
According to ERC's press release, the new maximum retail prices will be in force till September 14, when they will be reviewed again.
"Marketing companies are encouraged to compete below the maximum price. The regulations are mean to cap the maximum pump prices of the products, which are already in the country," Mwirichia.
ERC said that it had maintained a lower maximum price for wholesale kerosene at Sh4 per litre, instead of Sh6 per litre to cushion kerosene consumers
"Since the beginning of June 2011, the international prices of both crude oil and refined petroleum products have been unstable. Any decreases in procurement costs during the month of August will be passed on to consumers in the next price review," he concluded.
What Are Your Thoughts
Share with us what you think about this article