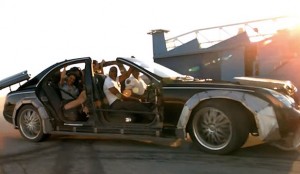 Rap stars are known for their love of fast, flashy cars - but superstar duo Kanye West and Jay-Z have taken that obsession to a new level.
The rap stars have created their very own piece of automotive memorabilia using high powered tools and a lot of imagination to hack apart a $1 million uber-luxury Maybach limousine.
The car - as seen in the duo's recently released single Otis - has had its roof and doors removed, with two of the doors having been welded to the rear of the car to give it a Transformers-style look.
The bonnet and boot have been switched around, front and rear wheel arch extensions have been added on, and it's all topped off by a flame-throwing exhaust.
The clip sees Kanye behind the wheel of the most expensive Mercedes model, with Jay-Z reaching across to hold on to the steering wheel at one point, seemingly to stop himself falling out of the car.
Four females are seen sitting in the backseat, holding on tightly to the pillars of the car and each other (though to the eager-eyed it is clear they are all strapped into harnesses).
The clip ends with a statement saying the car will be auctioned off with all proceeds going to the East African famine.
The video has racked up more than four million YouTube hits in just four days.
The rappers, who released their hyped joint album Watch the Throne to rave reviews earlier this week, were rumoured to have fallen out over escalating production costs for their upcoming tour.
Hip-hop fans have been waiting impatiently for Watch the Throne since Kanye West first mentioned it on Twitter almost a year ago.
The wait has apparently been worth it. Allhiphop.com gave it 9 out of 10 stars, calling it "a creative victory at worse and at its very best, a paradigm shift for hip-hop".
The album also features guest appearances by Beyonce, Frank Ocean and Mr Hudson, as well as vocal work from late soul singers Otis Redding and Curtis Mayfield.
To view clip, click on the link below.
Source: http://www.stuff.co.nz/entertainment/music/5436808/Kanye-West-Jay-Z-cut-up-1m-carKanye-West-Jay-Z-cut-up-1m-car