The National Transport and Safety Authority has now said that the cashless fare payment system will be implemented gradually after pressure from PSV operators.
NTSA director general Francis Meja made the announcement on Monday evening ahead of the implementation date on Tuesday, July 1.
"We will be flexible to allow use of cash for the meantime," said Meja adding that some operators were compliant with the directive issued last year by Transport CS Michael Kama, while others are yet to implement the system.
Matatu Welfare Association chairman Dickson Mbugua on Sunday had said that PSV operators needed more time to sensitise passengers on how the system works. Mbugua also said that operators could suffer exploitation at the hands of unscrupulous dealers.
"The cost of the system should be reviewed so as not to subject the PSV industry to exploitation by opportunistic corporates driven by greed. The government is taking this matter very seriously, but my appeal to them is to implement this system gradually," Mbugua said.
According to MWA out of about 20,000 PSVs only 2,000 have complied with the new regulations that take effect on July 1.
Presently, three companies based in Nairobi are handling cashless payment for PSVs. They are 1963 Jinice owned by the Matatu Owners Association, Beba Pay which is a joint venture between Equity bank Google, and Abiria Card which is a partnership between Kenya Bus Service and KCB.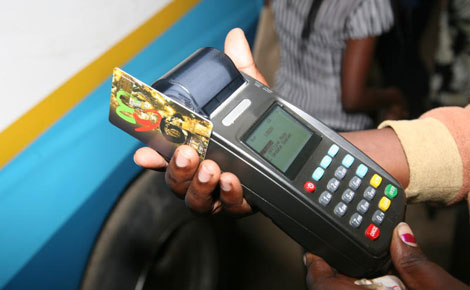 - See more at: http://www.the-star.co.ke/