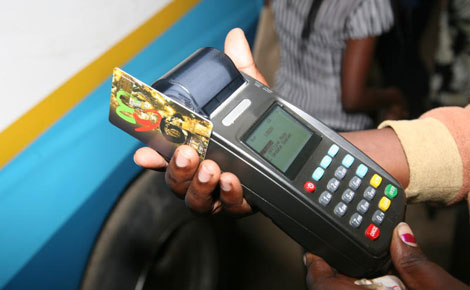 Matatu owners in Nakuru want Transport Cabinet Secretary Michael Kamau to suspend the cashless fare payment system set to be adopted by all Public Service Vehicles (PSV) starting Tuesday. The owners want their concerns addressed before the system is fully rolled out.
Citing lack of public awareness and high cost of the equipment, the owners alleged mischief at the speed with which the Government was using police in Nairobi to push for compliance. Representing the over 4,000 matatu owners in Nakuru town, the Nakuru Central Matatu Sacco Chairman Steven Muli noted that they needed more time as the system is new. He said the matatu sector has undergone many Government-initiated changes recently, including installation of digital speed governors that placed a heavy financial burden on owners.
Digital transport
"We need more time. The conductors need time to be sensitised on how to operate the system; commuters too need to obtain their cards, and all these processes need time," said Muli. He revealed that none of the over 4,500 matatus operating in Nakuru were fitted with the cashless system which he claimed costs Sh25,000 per vehicle.
"Not even a single owner in Nakuru has fitted his PSV, yet we know it will be us (Nakuru) after they are through with the Nairobi crew," said Muli. He, however, said they are not opposed to the system since it will be to the advantage of vehicle owners, but were unhappy over the hasty manner in which the Government is implementing it.
But Evans Nyakundi, the chairman of Ngata 2NV Sacco, observed that the system would complicate the situation when unforeseen breakdowns happen to a crew while en-route, saying commuters would face unnecessary delays as the crew await money to be sent by their bosses. The system means that matatu crew will not be traveling with cash.
Village folks Nyakundi also wondered how people living in the interior parts of the country who seldom travel would benefit.
"How does the Government expect that person in the village to learn this thing overnight? We are not opposing the system but other issues need to be addressed first," he said.
Read more at: http://www.standardmedia.co.ke