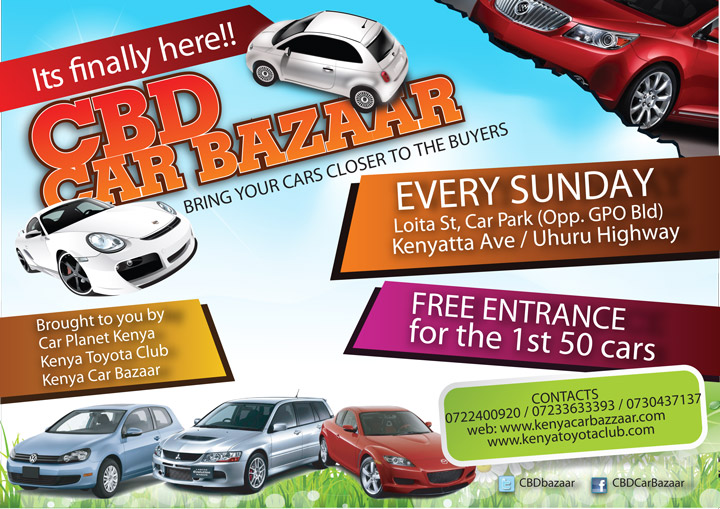 Kenya Car Bazaar Ltd, in conjunction with Kenya Toyota Club, Car Planet Kenya and Acorn Business Associates are proud to introduce to you our premier product, "THE CBD CAR BAZAAR".
The CBD Car Bazaar is a weekly event that takes place every Sunday from 8.00 am to 5.00 pm at the parking grounds between the GPO and Barclays Plaza adjacent to Uhuru Highway. It provides a platform for car owners, car sellers and car dealerships to exhibit their cars for sale to car buyers. The car sellers pay a special rate of Ksh. 500/= for exhibiting space.
For the car sellers, the CBD Car Bazaar will provide you with a strategic central and secure ground at an affordable price to display your car. In addition to this, there will be a magnitude of ready customers for your cars. Imagine all the traffic from the busy Uhuru Highway and the close proximity of the CBD. We have made arrangements to have computerized "For Sale" signs/stickers which can be displayed within the cars listing the full car details and price. Furthermore, a mechanism has been created for the sellers to extend their car display online through www.kenyacarbazaar.com at a discounted rate of Ksh. 500/= for a week. Our employees will take several professional colored photographs of your car and upload the information onto our website. The online advert will appear on our site to a much wider audience no later than the Monday after the weekend that the vehicle was registered. No more missed opportunities, driving long distances to sell your car, or shot in the dark advertising. Sell your car directly to the buyer.
For the buyers, there will be no middleman to hike the actual price of the car and no commission payable, since you will be dealing directly with the owner. There will be a wider selection of cars to choose from and most of all no pressure to commit. Plus, see vehicles for sale all in one place, no more wasting time driving from dealership to dealership looking for your next car purchase. All the cars have now been brought closer to you at a convenient location with ample parking space within a strategic location at the CBD. We are currently making plans to bring onboard other involved parties in the car industry i.e. insurance providers, financing institutions, spare part dealers, and many more. We are also making plans to have in place car ownership transfer forms and a system to assist the car buyers in carrying out their car search through K.R.A. to ensure the cars being sold are genuine. This therefore provides the buyer with a one stop shop for all vehicle transactions saving you the hassle and time involved in the transaction process. The event also provides a moment for family treats and bonding as entertainment and refreshments are also available.
Join us as we create this revolutionary service. We have created a market place for the car buyers, sellers and lovers. It is a one stop shop at the most convenient location, which will be a car haven for the car buyers. An individual will be able to come select a car at their convenience then deal with the owner directly on a one-on-one basis.
For Further assistance;
Telephone: 0722400920,  786400920,  0731437137,  0723363393
E-mail: info@kenyacarbazaar.com