This 1959 Austin Mini Se7en De Luxe Saloon is believed to be the oldest surviving unrestored Mini in the world. According to correspondence from the British Motor Industry Heritage Trust, it is the eighth of its type to come off the assembly line in May 1959, three months before the launch of the legendary model on 26 August. Sporting the registration 'XLL 27′ only three earlier Minis are believed to exist. One is owned by the British Motor Industry Heritage Trust, and the other two are in Japan.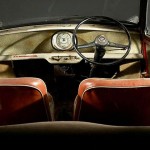 The car comes complete, and has all the features of these very early Minis such as the famous glass washer bottle. It retains its factory Farina Grey paintwork, all original panels, engine, transmission and original registration number. Except for carpets, the interior is original, complete and intact. There is even evidence to support the recorded mileage of just 30,041 miles is correct. This may look like a rust bucket, but car enthusiasts are expected to bid around £15,000 to take this hugely important example of British automotive engineering home with them when the car goes to auction at Bonhams on 30 April at the RAF Museum Hendon, north London, UK.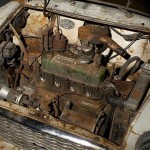 The Mini is one of the most important cars of the 20th century. They have always been collectable. Some collectors would want to return her to new, but others would just like to get her going again and keep her in the original condition.