President Uhuru Kenyatta deviated from tradition on Sunday by making his way into the Nyayo National Stadium for the Madaraka Day celebrations not on the customary ceremonial Land Rover but a Toyota Land Cruiser with bullet proof glass surrounding it.
The motivation for the change was unclear with Kenyans on Twitter (KOT) speculating that it could be part of heightened security measures or another manifestation of the 'look East' policy adopted by President Kenyatta's government.
God! Our president is now in a bullet proof LAND CRUISER? Wtf? Where is our ceremonial Landie? — Social Experiment (@MediaMK) June 1, 2014
You have my vote RT @wgkantai: When I become President, I will #BringBackTheLandie — Ahmed Salim (@ahmedsalims) June 1, 2014
Former Activist and photojournalist Boniface Mwangi was however of a different opinion and saw the bullet proofed Toyota as a consequence of increased insecurity in the country.
President @UKenyatta in a box,just a sign of how insecure Kenya has become. pic.twitter.com/CG8MbvTlft — Boniface Mwangi (@bonifacemwangi) June 1, 2014
The crowd in the stadium is screened but Uhuru's vehicle is proof that Kenya is no longer as safe as it used to be. pic.twitter.com/YzbF1lrel7 — Boniface Mwangi (@bonifacemwangi) June 1, 2014
The armored Toyota was at odds with President Kenyatta's previous public appearances where he has been reported to break ranks with his security detail to shake hands with the masses and carry children. President Kenyatta's lap on the vehicle also came just hours after the Coalition for Reforms and Democracy (CORD) decried the deteriorating state of security in the country. "In the three months that I have been away, Kenyans daily communicated their frustrations to me via email, SMS and phone calls. A baby was shot in Mombasa and his mother killed, part of the growing victims of insecurity that has claimed young and old, babies and mothers," Former Prime Minister Raila Odinga stated on his return from a three month trip abroad. While acknowledging that security was indeed a challenge in his Madaraka Day speech, President Kenyatta was also adamant that his government is well able to manage it. "We will bring those who put a bullet in Baby Osinya's skull and took his mothers life to justice," he assured.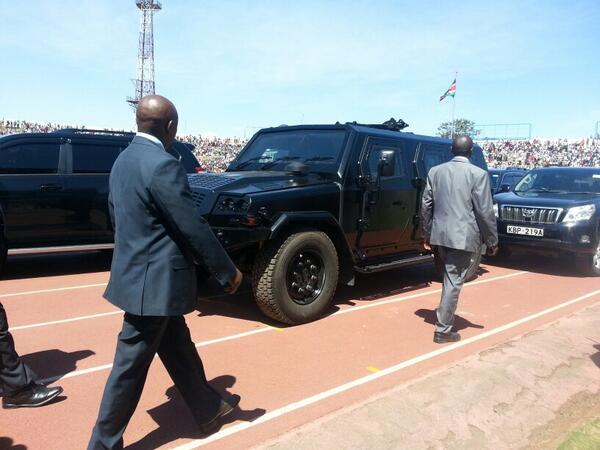 - Source: http://www.capitalfm.co.ke/