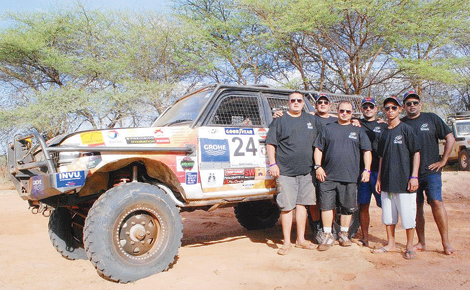 Allan Mckittrick of Team No.5 is  the overall winner of 2014 Rhino Charge competition held in Kalama area in Isiolo at the weekend. Team No 22 led by Gray Cullen came second while Team  No 53 of Captain Jamie Manuel and Brandon Barbour was third overall.
Captain Manuel said: "We  can't all believe we made it to a top five finish. Our Suzuki brand machine was not only a terrain warrior but was comfortable to direct around. We are looking forward for acordial relationship with www.cheki.co.ke, our sponsors, in the next year's edition." Another cheki.co.ke sponsored car no 59, a range rover belonging to South African  Richard Baudry, was 13th overall.
Baudry who was also making a debut in the competition meant to conserve environment in the larger Aberdare Region, was glad to lift the Tiger Line Award. "It was the toughest day of my life. I thank my sponsors for flying me to Kenya and participating in the event," said Baudry.
Kenya National Rally Championship ace Ian Dancun, who was also under the cheki sponsorship, dropped to a fifth position from his runners-up place last year. Dancun who drove a Toyota Land Cruiser said: "It was great trying a hand in the Rhino Charge. More sponsorships should be unveiled to rally competitors to have a feel of the event that  has helped thousands around Aberdare Region with clean water and enviable ecosystem."
Mckittrick, sponsored by  Kenchic and Chloride Exide, thanked his  team of Bovard Jon, Ray Kyle, Tim Jessop, Knight Bruca and Doung Smith for making it happen this year. "We couldnt have been champions without their efforts,"said Mckittrick. There were 13 guard posts which the competitors had to go through and included Brookhouse zone, Copycat, Graftsman, Greensteds, Hardi, Orbit Chem, Pies, 2Go, Satao, Vineyard, Slater and Whit, KWS, KQ Cargo and kingsway.
 - Source:  http://www.standardmedia.co.ke/