State agencies on the spot over seized vehicles
A row is simmering between Container Freight Station operators and two government agencies on the fate of vehicles seized in the past two years.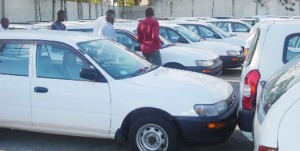 CFS operators say there are no sufficient measures to compel importers to pay for accumulated storage charges.
The vehicles, they say, are creating congestion at their yards.
The operators accuse the Kenya Bureau of Standards (Kebs) and Kenya Revenue Authority (KRA) of impounding more than 1,000 vehicles yet no instructions have been issued on how to deal with the matter.
"We have raised the issue of over-age vehicles with KRA to have them taken back to the port yard but the authority has not responded," said an official of the CFS operators association, who did not want named for fear of victimisation.
By the time of going to press, the revenue authority had not responded as promised.
All imported vehicles to Kenya must conform to the standard code of practice for inspection.
This regulation by Kebs requires imported vehicles to be right-hand drive and used motor vehicles be less than eight years old from the year of first registration.
The vehicles that do not meet these standards are supposed to be shipped back to the country of origin or destroyed.
Kebs has appointed Japan Export Vehicle Inspection Company to conduct pre-shipment inspections and issue certificate for imports from several countries, including Dubai, Britain, South Africa and Singapore.
For vehicles imported from other countries, their owners must surrender 15 per cent of the value to have them inspected locally.
It is believed that a cartel at the port has been able to forge import documents to bring into the country over-age vehicles.
Kebs and the KRA have in the past intercepted many sub- standard vehicles.
Mr Peter Mambembe of Kenya International Freight and Warehousing Association said the issue was complicated since KRA had collected duty for the cars.
Article Adopted from : http://www.nation.co.ke/business/news/State+agencies+on+the+spot+over+seized+vehicles/-/1006/1151678/-/13rlh4dz/-/
Related posts: