Supercharged BRZ finally gets the extra power
Updated: October 27, 2013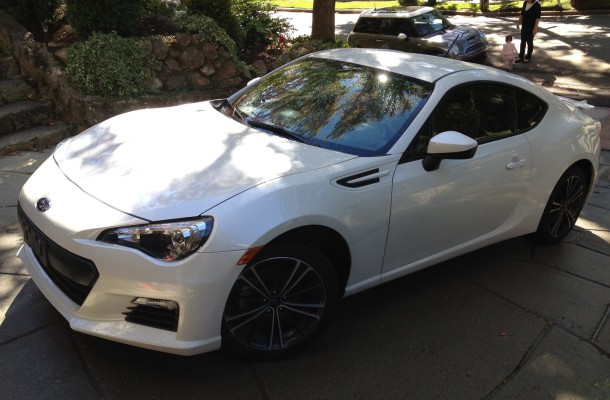 This is the Litchfield Subaru BRZ Spec S. S might as well stand for supercharged, as that's the stand out upgrade here.
Am I right in thinking that Subaru BRZ above isn't 100 per cent standard?
Dead right.
Excellent news. Tell me more.
This is the Litchfield Subaru BRZ Spec S. S might as well stand for supercharged, as that's the stand out upgrade here. There are others, which we'll come on to in due course, but the one thing we've been wanting to try for a very long time, in fact since I first drove the car almost two years ago in Japan, is a BRZ with more power. And this one has an extra 83bhp and 59lb ft of torque. So 280bhp in 1250kg or thereabouts, giving a power to weight ratio of 226bhp/ton instead of 159bhp/ton.
Hmm, I'm guessing most hot hatches can't match that?
None. Even the fearsome 276bhp Astra VXR has only 187bhp/ton. In fact, to give you some idea of how much further Litchfield's supercharger kit moves the BRZ up the speed scale, here are some power-to-weight figures for other rivals: Nissan 370Z (206bhp/ton), Audi TTS (188bhp/ton), Porsche Cayman (199bhp/ton). In fact, as Litchfield has done, it helps if you bolt a supercharger on to get the necessary figures: both the 217bhp Lotus Elise S and 375bhp Jaguar V6S have, and they only narrowly shade the BRZ with power-to-weight numbers of 235 and 232bhp/ton respectively. Now I know these are all very different types of car and not necessarily rivals, but what I'm trying to do here is put the Litchfield BRZ in context, to show how far it's moved.
So how quick is it?
Litchfield claims a 0-60mph time of 4.9secs. That feels a bit ambitious to me, but low 5s is definitely on - especially as we found out earlier this summer that a standard BRZ will happily do 0-60mph in 6.7secs rather than the claimed 7.6secs. But it's the difference this makes to daily driving that transforms the Subaru. I run our long-term BRZ and have lost count of the number of times I've had to shift from sixth to fourth, or even third, just to keep a diesel saloon in sight. Mid-range torque is the standard car's Achilles heel and it's a major affliction as you have to keep the engine bubbling above 4500rpm to keep the chassis interested.
Bet the supercharger delivers a great thump of torque low down, right?
Well, yes. And no. This is not one of those superchargers that gives a great shove and then stands back and dusts its hands in a job-well-done sort of way. This one builds, mirroring the standard car's power delivery. What this means is that you may occasionally need to shift from sixth to fifth if caught at a slack point in the rev band, but the higher you go, the better it gets. Above 4500rpm you're rewarded by a glorious metallic shriek and genuinely scintillating acceleration courtesy of 210lb ft. It won't feel as fast as it actually is because of the progressive way superchargers deliver their power, but a glance at the speedo will tell you all you need to know.
Expensive?
Wrong. £3,495 plus fitting, which I happen to think is a bit of a steal. So for under £30,000 you could have a 280bhp BRZ. Now I know you'll rightly have concerns about warranty and emissions and all that sort of thing and I can't completely put your mind at rest about them. What I can tell you is that I usually get about 32mpg from my BRZ, and on the same routes the Litchfield was doing about 28mpg. Of course, when I did clog it, that figure fell dramatically, but because the extra torque means you don't have to use so much of the rev band so often, overall the fuel penalty is pretty small.
So that's it then?
A look at the pictures should tell you Litchfield didn't just bolt on the 'charger and be done with it. Incidentally the kit includes an oil cooler, intercooler and Ecutek ECU (which can, if you so desire, be set up with switchable engine maps and launch control). On top of that this car came with a Milltek exhaust system which burbled and rasped and was, volume-wise, genuinely on the outer edge of acceptability. But Milltek actually offer two set-ups, and this was the louder of the two. We'd recommend the quieter. Both cost around £650 and definitely give the BRZ a strong aural identity, it's just a question of how much is too much, and that's a personal thing.
That ride height's not standard either, is it?
No, Litchfield has fitted its handling kit, consisting of Eibach springs (which account for the 30mm drop in ride height) and adjustable anti-roll bars. £530 is worth it for the stance it gives the BRZ alone, before we even discuss the TSW alloys (£220 a corner) or Alcon brakes (a hefty £2800 for the whole package). Our car also featured a Bilstein damper kit that Litchfield hasn't yet done the final tuning on and as a result wet-weather traction was a bit… patchy.
What was it like overall?
Really impressive. The brakes, in particular, are so much stronger than the standard set-up, boosting the Spec S's stopping power in line with its new found acceleration. Lovely to use, really strong. Overall, the ride is more positive, but we have a feeling that once Litchfield master these new dampers, it'll be much better. As it is, it rides really well at high speeds, but skips and jars a fraction too much around town and has a tendency to lose traction too readily at the back, which makes the clumsy stability control step in. It's great fun to drive though. You have to be much more careful with how you use the power now - you can't just bury the pedal, you need to think and treat the BRZ Spec S with respect. It's a proper small sports car, one you can have a whale of a time in. There's more feel through the chassis, body roll is all but eradicated and it's still really nicely balanced. To have this extra power in a car that's so compact and low to the ground and affordable is great, it really is. Litchfield has made the BRZ the car we always knew it could be, the car it deserves to be.
Would you own one?
Absolutely. I don't know if I'd have all the upgrades, but the supercharger and handling kit is a no-brainer and I'd then pause and drive it like that for a while before saving up for the wheels, brakes and exhaust. In the guise we drove it in, with the loud exhaust and slightly iffy damping, it was one step over the line for me and I'd like to keep it back a bit from that. Aside from that, though we hope Subaru is sitting up and taking notice.
One last question. Will these mods fit a Toyota GT 86?
Yes. All these upgrades are equally applicable to both the Subaru and Toyota.
9/10