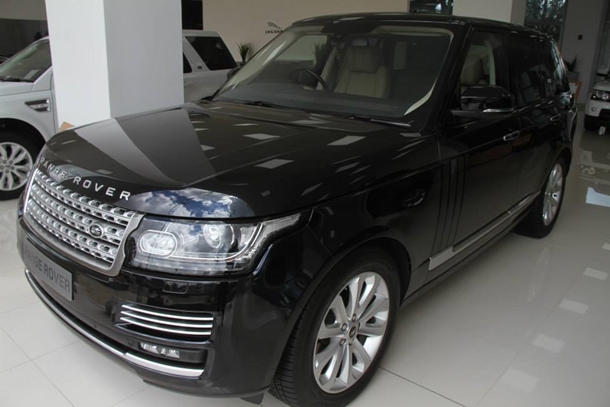 RMA an American owned company with their headquarters in Thailand are the current Landrover/Jaguar representatives in Kenya with offices in 26 countries in Africa. Since they took over in January this year, they have been able to supply 5 units of the Range Rover 2013 and are currently having orders of 17 vehicles 2013 Range which they hope to supply by the end of the year. The price of the car is ranging from 20 Million Kenya Shillings to 27 Million depending on the engine model and the specifications it comes with. The All new range rover 2013 is the world's most refined and the world's capable luxury SUV. Customers have a choice of two petrol engines namely 5.0-litre 375 PS LR-V8 and 510PS LR-V8 Supercharged which is the quickest. There are other models which are diesel 3.0-litre 258PS TDV6 and 4.4-litre 339PS SDV8 engines, all of which are now paired with a smooth and responsive eight-speed automatic transmission.
The all-new Range Rover features a revolutionary all-aluminium monocoque body structure which is 39 per cent lighter than the steel body in the outgoing model. Continuing Jaguar Land Rover's leadership in such aerospace-inspired, high-performance lightweight structures, the all-aluminium body enables the new vehicle to significantly enhance both performance and efficiency. Combined with weight savings throughout the chassis and driveline, the lightweight structure contributes to a model-for-model weight saving of up to 350kg compared to the outgoing vehicle. This weight saving heightens the characteristic Range Rover sensation of effortless performance, but also improves efficiency keeping into account that aluminium never rust as well. For example, the 510PS LR-V8 Supercharged model can now accelerate from 0—60mph in just 5.1 seconds, a reduction of 0.8 seconds over the outgoing model. Fuel consumption, however, is cut by 9 per cent. The lighter structure has also made it possible to introduce the sophisticated 3.0-litre TDV6 engine into the model line. With performance just as strong as the previous 4.4-litre TDV8 Range Rover, the smaller engine takes the total weight saving up to 420kg, and delivers a dramatic 22 per cent reduction in fuel consumption and CO2 emissions, achieving figures of 37.7mpg (7.5 lit/100km) and 196g/km. The new Range Rover's environmental credentials will be further enhanced by the introduction of a state-of-the-art high-efficiency diesel hybrid model later in 2013 (target CO2 169g/km).
The luxurious interior has a modern and pure character, incorporating distinctive Range Rover design cues, but with a fresh and very contemporary treatment. The cabin retains the characteristic strong, architectural forms, and these are emphasized by extremely clean and elegant surfaces which are flawlessly executed using the finest leathers and veneers. The all-new Range Rover has been engineered with the latest developments in vehicle technologies, from interior luxury features to advanced chassis and driver assistance technologies. The interior is packed with a full suite of premium features to provide both front and rear seat passengers with the same peerless luxury experience. Their well-being is assured by the latest interior technologies for comfort, convenience and seamless connectivity. The new and improved features include, Convenience – premium features including keyless entry, soft door close with power latching, power upper and lower tailgates, cooler compartments(Inbuilt fridges), and electrically deployable towbar, High-end audio exclusive Meridian surround sound music systems which comes with 29 speakers producing 1,700 watts of 3D surround sound of  audiophile-quality. The new Range Rover also offers a comprehensive connectivity package which includes,Handsfree mobile phone via Bluetooth, enabling the phone to be controlled via the 8-inch touchscreen or steering wheel controls, Bluetooth audio streaming, to play music stored on a phone, or other portable Bluetooth device, via the car's audio system, Voice control, with intuitive 'say what you see' display prompts, USB connectivity for iPods/MP3 players or memory sticks., Executive Class rear seating package includes additional USB connectivity for the rear passengers.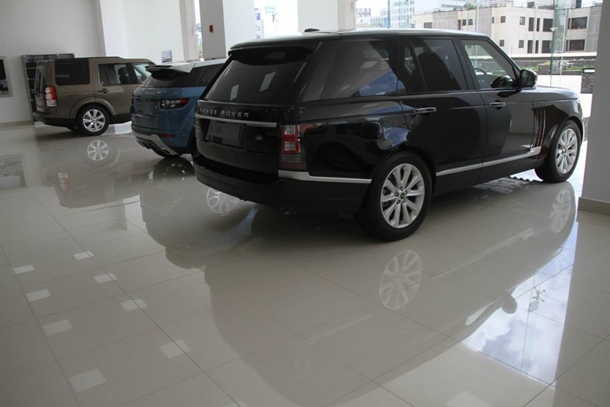 The car state-of-the-art high-resolution displays, include the stunning full digital instrument cluster and the central 8-inch touch-screen with Dual-View functionality, Voice control and connectivity – a seamless connectivity package for mobile devices, Climate control – all-new best-in-class climate control systems, including the powerful new premium four-zone system and Park Heater timer facility, Luxurious seating – upgraded seating with luxurious new features such as multi-mode massage, and the exclusive new Executive Class rear seating package. They are also heated and have a cooler just incase the driver feels like a cold seat, Interior illumination – the latest LED illumination for subtle and sophisticated ambient lighting, including the ability to change the colour scheme to suit the driver's mood
With over 118mm more legroom, the rear compartment offers vastly more space and comfort, with the option of the desirable new two-seat Executive Class seating package for the ultimate in rear-seat luxury. To enable customers to create their perfect bespoke vehicle, the unique luxury ambience of the new Range Rover can be extensively tailored with an indulgent choice of colours running upto 38 different ones, finishes and special details, from the immaculately-trimmed colour-themed interiors of the exclusive Autobiography series, to the seven different stylish range of alloy wheels up to 22 inches in diameter. Amongst the industry-leading innovations is a ground-breaking next-generation version of Land Rover's Terrain Response® system, which analyses the current driving conditions and automatically select the most suitable vehicle settings. An all-new state-of-the-art lightweight suspension architecture delivers class-leading wheel travel, providing exceptional wheel articulation and composure to deal with the toughest conditions. Outstanding traction and dynamic stability is provided by the proven Range Rover full-time intelligent 4WD system, with a two-speed transfer box, working in parallel with the sophisticated electronic traction control systems. The new Range Rover's unmatched breadth of capability is also reflected in its tremendously strong structure with enhanced body geometry for all-terrain conditions, wading depth which has improved by 200mm to 900mm, and its position as the best towing vehicle in its class with a 3,500kg trailer capability.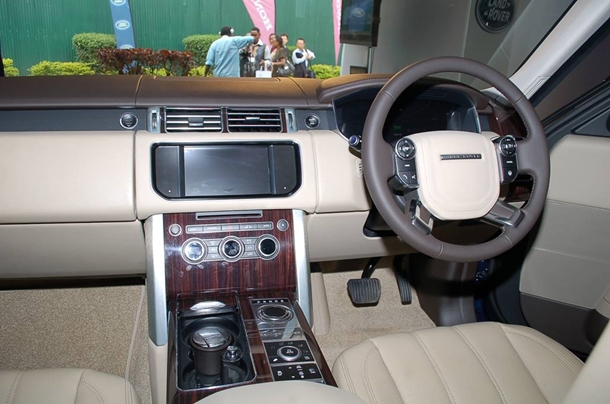 To ensure exceptional durability and reliability, the new Range Rover has been subjected to Land Rover's punishing on- and off-road test and development regime, with a fleet of development vehicles covering countless thousands of miles over 18 months of arduous tests in over 20 countries with extremes of climate and road surfaces. Range Rovers are renowned for providing occupants a sensation of serene isolation from the hectic world outside, and the new model has been engineered to meet the highest luxury car standards for refinement. Meticulous attention to detail throughout the development process has eliminated all unwanted sounds and traces of harshness, and measures like the rigorously optimised body structure, acoustic lamination of the windscreen and side door glass, and new dual-isolated engine mounts have led to a significant reduction in noise levels. The new chassis architecture is combined with completely re-engineered four-corner air suspension, and together they have enabled engineers to achieve even more luxurious ride comfort and refinement, in addition to transformed on-road handling, with more confident and agile cornering. With its highly acclaimed line-up of torque-rich engines, the new Range Rover delivers swift and effortless performance. True to the Range Rover DNA, the new model features the unique Command Driving Position, placing the driver in an elevated, upright seating position – typically over 90mm higher than other premium SUVs – to provide a supreme sense of confidence and control.
To enhance dynamic performance, and to ensure that drivers enjoy a relaxed and stress-free experience behind the wheel, the new Range Rover incorporates a comprehensive range of advanced chassis and driver assistance technologies. Among the new and enhanced features are, Two-channel Dynamic Response active lean control, and Adaptive Dynamics with continuously variable damping, Electric Power Assisted Steering, which enables Park Assist – the latest automated technology to help drivers parallel park their car in tight urban parking spots without a touch on the steering (the car uses the cameras and sensors to park itself automatically), Adaptive Cruise Control – with new Queue Assist feature which allows the system to continue functioning at low speeds and down to a complete stop (This will help drivers at traffic jams since the car will move itself and keeping a maxmum distance set by the driver.The driver only controls the steering and nothing else), Intelligent Emergency Braking (including Advanced Emergency Brake Assist) – to help drivers avoid a collision if the traffic ahead slows quickly or another vehicle suddenly moves into their lane, Blind Spot Monitoring – with new Closing Vehicle Sensing feature to detect vehicles which are closing quickly from a further distance behind, Reverse Traffic Detection – to warn drivers of potential collisions during reversing manoeuvres, Adjustable Speed Limiter Device – enables the driver to set their own personal maximum speed, Surround Camera System – with T Junction view, Trailer reverse park guidance, and Trailer hitch guidance.
The elegant proportions of the body, along with the subtle taper to the roofline and the pure, clean treatment of the body surfaces, further enhance the more flowing and contemporary feel. Fresh new interpretations of the classic design cues help to capture that essential Range Rover spirit, including the signature clamshell bonnet with its distinctive castellations, the floating roof, and the graphic of the side fender vents. With its deep, imposing grille and distinctive headlamp graphics, the front-end retains a powerful Range Rover character. However, the rearward slope of the grille, the more sculpted corners, along with the faster A-pillar angle, all point to the more streamlined nature of the shape. The sleeker and more aerodynamic profile is also evident at the rear, where there is a distinctive taper to the bodywork, lending a more compact feel to the rear of the vehicle. Advanced lighting systems provide another eye-catching feature, and the front lamps continue the bold evolution of the face of Range Rover, with highly distinctive signature graphics using LED light blade technology which feature the trademark interlocking circles. Designers have executed the main projector beam units with technical graphics that resemble a high performance camera lens. At the rear, the lamps develop the stacked treatment of the current model with a striking new design that is completely executed using LED technology. The main tail and stop lamps have a bold square pattern, while the direction indicators use a new interpretation of the 'triple line' graphic used on the current model. The lighting story is completed by a 'hidden until lit' high-mounted LED stop lamp which is positioned under the spoiler across the full width of the tailgate, creating an exciting blade of light across the rear of the vehicle.
The full choice of individual options to enable Range Rover customers to create their own special and unique vehicle includes, 17 interior colour themes, plus additional choice of seat colour, 3 interior veneers at launch, with more to follow, 3 headlining colours, rear Executive Class seating, 22 unique Autobiography colours, 2 contrast roof colours – Santorini Black or Indus Silver, alternative Dark Atlas finish for the exterior accents, full-size panoramic roof, illuminated tread plates, electrically deployable side steps with illuminated range rover word, electrically deployable towbar.
Range Rovers are renowned for their ability to find drive on the most challenging low-grip surfaces, and the latest model builds on that experience by featuring the proven Range Rover full-time intelligent 4WD system, with a two-speed transfer box providing a low-range option for difficult conditions off-road or when towing. The heart of the 4WD system is the transfer box which provides permanent four-wheel-drive via a bevel gear centre differential, with a 50/50 torque split. Outstanding traction and dynamic stability is maintained through an electronically controlled multi-plate clutch which provides a centre differential lock and torque biasing function. To further optimise traction and stability in extreme conditions, customers can also specify an Active Rear Locking Differential on SDV8 and LR-V8 S/C models.
The full suite of active safety features on the new Range Rover includes, Dynamic Stability Control (DSC), Roll Stability Control (RSC), Electronic Traction Control (ETC), Trailer Stability Assist (TSA), Hill Descent Control (HDC) and Gradient Release Control (GRC, Hill Start Assist (HSA). Engine Drag torque Control (EDC), Anti-lock braking system (ABS), Electronic brake force distribution (EBD, Emergency brake lights (EBL), Emergency brake assist (EBA), Corner Brake Control (CBC). The new Range Rover has been engineered to meet and exceed the most stringent global safety standards. Its optimised aluminium body structure protects occupants using an incredibly strong and stable safety cell, which is complemented by a comprehensive system of airbags and restraints. The crash structure was extensively optimised using state-of-the-art computer simulation tools, which allowed engineers to conduct a significant number of 'virtual' crash tests long before physical prototypes were available. Vehicle crash performance has been verified via a rigorous programme of 70 full vehicle crash tests and over 20 sled tests. Designed for an optimised crash pulse, minimum intrusion into the safety cell and maximum occupant protection, the aluminium body structure includes key features such as the use of high strength AC300 aluminium within the crash structure and a composite reinforced B-post area to minimise intrusion in side impacts.
The occupant safety package includes a comprehensive system of air bags and restraint systems including driver and passenger airbags, side curtain and thorax airbags (including the largest curtain airbag in current production), and active front seat belts which are linked to the vehicle's emergency braking functions. Pedestrian safety has been given a very high priority, with a carefully optimised design for the front-end, bumpers, bonnet and cowl area to minimise potential injuries. Featuring the most extensively developed pedestrian safety package of any Range Rover, key measures include a raised bonnet A-surface, bonnet and bumper profiles optimised for energy absorption, along with the careful optimisation of the coupling of surface parts with under-body structures to maximise energy absorption.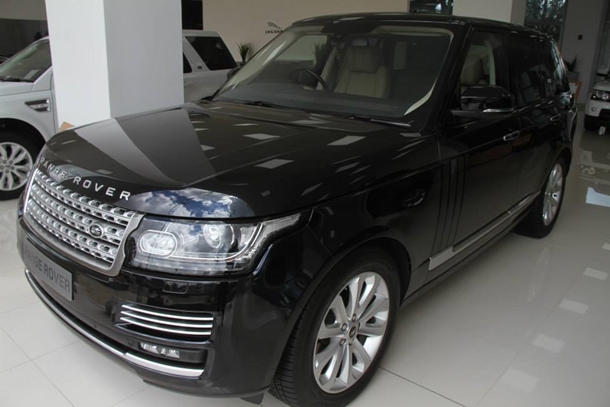 With all the above features and others omitted, this vehicles clearly shows why it has become the talk of town and the most viewed at the 2013 Total Motorshow.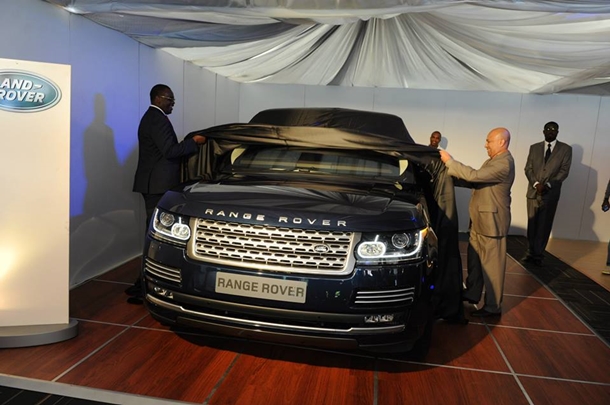 Image Credit: RMA Motors Kenya
Source: Karuga Njuguna
What Are Your Thoughts
Share with us what you think about this article