It's time the Lexus IS model tested our treacherous roads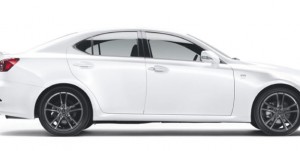 Last week we looked at a strange model from the Nissan stable that is unlikely to be introduced to this conservative market that refuses to think outside the box.
How conservative are we really? Judging by what CMC did by introducing the Jaguar brand to Kenya, I think we are finally embracing free thinking.
Will Toyota surprise us by bringing in the Lexus brand? Seeing that they have imported a Bentley, an Aston Martin, Kenyans certainly enjoy a good quality ride. Lexus is undoubtedly one of the world's most well put together cars.
If the bean counters at Toyota Kenya give it the nod what model would they start with? The most logical place to begin would be the Lexus IS range. Gorgeous from every angle, the car is engineered to perform at the highest level of automotive excellence.
Did you know that Lexus experts stripped down, studied and tested Mercedes Benz and other European premium brands for two decades before introducing their first model, the flagship LS? Being the perfectionists they are, Toyota have for years produced a superior car that offers more than expected.
Today the Lexus is an award-winning brand known for high quality, comfort, refinement and performance. The 2011 IS model range features numerous subtle yet significant exterior and interior styling revisions.
New design elements give the IS a more distinctive look and character, hallmarking it as an elegant, muscular and dynamic sports saloon.
Customer satisfaction remains fundamental to the Lexus ownership experience, and the company's exceptional standards of exclusivity, intelligent design, integrity and attention to detail in customer service have seen the IS model top the world-famous J.D. Power and Associates customer satisfaction survey, winning the 2010 UK Executive Car class with an overall score of 83.9 per cent.
Combining luxury finishes with a build quality unprecedented in this segment, the stunning interior of the 2011 IS model has undergone a number of changes reflecting the attention to detail which hallmarks the Lexus brand. In a premium product such as this, in-car-entertainment is very important and Lexus does not disappoint in this department.
You have a choice of four powerful audio systems; two Lexus premium sound systems featuring a 6-disc, in-dash CD changer, steering wheel mounted audio control switches and eight or 13 speakers and surround sound.
If you really want to shine in both the looks and performance department then the ultimate Lexus will be the IS F with a massive five litre V8 engine generating over 300kW at 7,000rpm and 500Nm of torque at 5,200rpm and mated to an 8-speed Sports Direct Shift (SPDS) automatic transmission with manual, paddle shift override.
This is Lexus' ultra-high performance sports saloon. It will accelerate from 0-100km/h in just 4.8 seconds and on to an electronically governed top speed of 270km/h. Now that is indeed impressive.
A new driver's instrument design repositions the tachometer, speedometer and shift indicator within the binnacle for instant legibility and maximum clarity during high speed driving.
To help keep you planted to the tarmac, the IS F's suspension has been re-tuned to improve ride comfort and high-speed stability under all driving conditions.
The front coil spring rate has been changed to reduce the transmission of road surface vibrations, and the shock absorber damping force characteristics have also been revised to combine high performance with enhanced ride comfort.
We should petition Toyota Kenya to introduce the Lexus brand on our roads.
Source: http://www.businessdailyafrica.com/Its+time+the+Lexus+IS+model+tested+our+treacherous+roads/-/539444/1195690/-/item/1/-/5lhu9yz/-/index.html