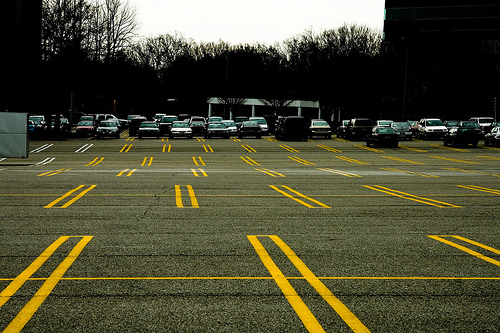 When attending a big event like Osaka Auto Messe, it's important to have a plan when going about shooting photos. Since I'd be spending two days covering this year's show, my plan was to gather as much as material as I could on Friday, when foot traffic would be lighter and it'd be easier to look at the cars up close.
By the end of Friday this was largely accomplished, so when I returned to Intex Osaka for day two of Auto Messe on Saturday, I had a bit more freedom. While I spent some time wandering the halls, dodging the crowds and looking for anything I might have missed on my first pass, my primary mission for the day would be to check out the parking lots.
As strange as it might sound, this is actually one of my favorite parts about covering an event like Auto Messe. Maybe it's just nice to get away from the noise and crowds for a little bit, or maybe I enjoy the thrill of the hunt for cool cars. Whatever it is, I was excited to get out there and see what I could find.
I was however, a little worried about the effect that the weather would have on the selection of modified cars in the parking lot. Saturday's weather wasn't nearly as bad as Friday's snow storm, but with clouds and the occasional rain shower, it still wasn't what I would call great driving weather.
So with a bottle of hot tea to keep me warm, I headed out to see what I could find in the various parking lots and garages that surround Intex Osaka.
After a few minutes it was obvious that while there wasn't quite as many modified cars as in years past, there was still plenty of interesting machinery to be found. After all, a little bit of ugly weather isn't going to keep the passionate Japanese auto enthusiast at home.
And even if the numbers of cars were slightly lower than I remembered from the past, the variety was as impressive as ever. There was everything from custom vans and drift machines, to exotics and high horsepower tuner cars.
Since this is Osaka after all, what better place to start than with a Honda Civic? This one's a super clean EK9 Type R model sitting on a set of 17″ Buddy Club wheels.
It's really hard to get more Japanese than a slammed kei car. Actually, to call this Daihatsu slammed would be an understatement.
Source: Speedhunters
What Are Your Thoughts
Share with us what you think about this article