RANGE ROVER EVOQUE
The same sleek, striking silhouette as the coupé, with the added practicality and convenience of five doors.
With an engaging blend of dynamic handling and refined engineering, the Range Rover Evoque's compact footprint and advanced technology deliver exciting performance together with the lowest  fuel consumption of any Range Rover to date. You can also opt for the eD4 2WD Diesel engine to further help optimise your fuel economy.

You can create your own bespoke Range Rover Evoque with a tempting array of colours, finishes and luxury designs, based on 3 distinct design themes:
Pure - the purest expression of the LRX concept car.
Prestige - the ultimate in Range Rover luxury.
Dynamic - a sports-orientated take on the Range Rover Evoque.
Interior Styling

You can further customise your Range Rover Evoque with our range of interior styling accessories. Some of these safeguard your vehicle, passengers and cargo; others protect the interior from dirt, wear and tear.
Exterior Styling

The elegant lines of Range Rover Evoque can be tailored to satisfy individual tastes. There are a number of uniquely styled exterior accessories, such as stainless steel, side protection tubes.
Carrying and Towing
Range Rover Evoque has an impressive load carrying capability. However, extra capacity is sometimes required. A range of accessories has been designed, from bike carriers to luggage boxes.
Touring
To help enhance short or long trips and vacations, there's a range of touring accessories, for your convenience and safety.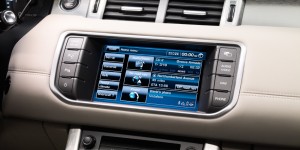 Article source: http://www.landrover.com/gb/en/rr/range-rover-evoque/