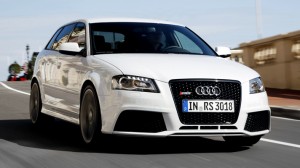 On the face of it, the RS3 is impervious to criticism. It's got 335bhp backed up by an immense torque spread, spectacular grip and traction, Audi's epic interior quality, a practical five-door hatchback body, decent economy if you don't thrash it, and even a comparatively generous equipment list. What could possibly go wrong?
It simply eats roads. The engine, taken directly from the TT RS, is with you all the way. There's an almost casual muscle in the middle of the rev band, ideal for surfing along when you don't want to make a fuss. But when you're ready,the fireworks kick in, exploding you towards the red line, and then the seven-speed S-tronic finds you a new gear without batting an eyelid.
Irresistible force, meet immovable object. This immense power can't overcome the tyres' tractive purchase. Just get your foot down out of a bend. Sooner. Sooner again. It catapultsaway from slow corners, wet corners, whatever. Nothing's going to stand in its way. Not even tight roads or busy ones - as it's a comparatively narrow car, it slips through gaps, and finds overtaking chances where a supercar would hesitate.
And yet on grippy tarmac, I wasn't smiling quite enough. The car does what it does: turns, grips, and goes. Maybe understeers very slightly if I found the limit (even on the optional wider 255 tyres). But I normally didn't find it. There didn't seem to be enough feedback, or other options. The lighter, shorter and lower TT RS is more satisfying. True, on a greasier stretch of road, the RS3 did come more alive. But the steering never spoke much.
I found myself wanting a Golf R with this engine. I guess it's mainly that the Audi goes for smooth road grip where the Golf goes for handling sensitivity and suppleness. And of course if you put all this power through the Golf R's tyres, you'd probably melt them to treacle.
When you're not warping yourself with g-loadings, the RS3 is, like the long line of five-door RS Audis, a properly useful thing. And utterly reassuring. While the base A3 is up for renewalnext year and so some of its cabin ergonomics are getting stale, the solid feel of the furniture soon makes you forget the asking price. Outside, there are extra grilles (functional, not just for show) and unique wheels. To cover the wide track, the front wings are widened too, and made of carbon fibre, which saves a small amount of weight and adds major bragging rights.
So if the cornering dynamics might lack the sprinkling of fairy dust, of emotional connection, you just haveto take things in the round. The all-conditions speed and the sheer breadth of day-to-day ability leave you utterly powerless to argue against what racing drivers love to call a 'total package'.
Article source: http://www.topgear.com/uk/audi/a3/road-test/rs3