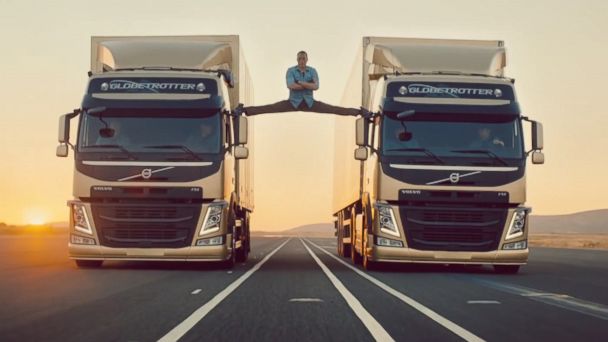 Jean-Claude Van Damme did a split between two tractor-trailers while they were driving backward. The stunt was designed to promote Volvo Trucks' new dynamic steering system and stability. The video has already received more than 10 million views on YouTube. The "Muscles from Brussels" nailed it in one take.
Jean-Claude Van Damme shows that he's still as flexible as ever at 53 – by doing the splits in between two moving trucks. The Belgian actor is heard saying: 'I've had my ups and downs… My fair share of bumpy roads and heavy winds. That's what made me what I am today. 'Now I stand here before you. What you see is a body crafted to perfection. 'A pair of legs engineered to defy the laws of physics and a mindset to master the most epic of splits.'
Van Damme's feet were placed on a small platform that was built on the side mirrors of the trucks.
Anders Vilhelmsson, public relations manager for the Volvo Trucks brand, insisted that it was a 100 per cent real. He told the Wall Street Journal: 'The stunt is real and is performed in just one take.
What Are Your Thoughts
Share with us what you think about this article