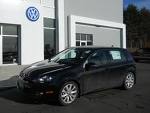 VW dealership Sunrise Volkswagen is excited to learn that the 2011 Volkswagen Golf TDI was awarded by kbb.com. The hatchback, which was upgraded from its predecessor, has been named one of the Top 10 Green Cars of 2011. Sunrise Volkswagen wants customers to know about all the different options available to them with the Golf TDI. As different promotions are available, customers are welcome to browse the TDI inventory and learn about the tremendous savings going on now.
"Nowadays customers are not just looking for a car that can transport them from place to place," said Sunrise Volkswagen General Manager Carlos Girard. "Customers are savvy with information and know what vehicle is going to be of the most benefit to them. Knowing that we carry one of the most fuel efficient cars available through Volkswagen means we can serve our customers with different options."
The VW Golf TDI has also been named as a best-in-class vehicle, which is environmentally-friendly and fun to drive. The TDI is stocked with a 2.0L clean diesel engine and earns 30 mpg city and 42 mpg highway. The power behind a TDI pushes from zero to 60 in 8.6 seconds and is available in two or four doors. LI VW shoppers may want to know that the Golf TDI was also named a 2011 Top Safety Pick by the Insureance Institute for Highway Safety.
LI VW customers have many options at Sunrise Volkswagen, "Where the Sun Always Shines on Savings." Promotions may now be available on popular vehicles such as the 2011 Volkswagen Golf, which may be purchased for as low as $25,935. Other vehicles available for special deals may include the 2011 Jetta available for lease for as low as $179 per month for 36 months; the 2011 Tiguan available for lease for as low as $239 a month for 36 months; and the 2011 CC Sport for as low as $269 a month, leasing for 36 months. Other specials available may include a new 2011 VW Routan with up to $6,000 off MSRP or LI VW customers can take advantage of as low as 0.9 percent APR financing.
Sunrise Volkswagen wants to get customers into the VW that fits their lifestyle and their budget. With green cars like the Golf TDI, shoppers have a wider selection to choose from.
For more information on the Volkswagen Golf TDI, visit http://www.sunrisevolkswagen.com/ or call 866-246-7520 .
Sunrise Volkswagen is a leader in enhancing the total customer experience when shopping for Volkswagen vehicles. The dealership ranks in the top 15 percent of VW dealerships in the nation and was the No. 1 volume dealership in Nassau County. The dealership firmly believes customer service begins well before a shopper enters the showroom, and as a result of this belief, Sunrise Volkswagen has created a user-friendly website where customers can browse vehicles, view promotions and learn more about the dealership.
What Are Your Thoughts
Share with us what you think about this article