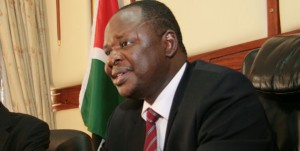 Immigration and Registration of Persons minister Otieno Kajwang' was involved in an accident when his vehicle veered off the road as the driver avoided a cyclist.
The minister suffered minor injuries in the weekend incident near Kipasi which left the car severely damaged.
Other people in the car, including a councillor, the minister's bodyguard, personal assistant and driver also escaped with minor bruises.
The minister was taken to a hospital in Kisumu where was attended to.
Meanwhile, Mr Kajwang' has declared his intention to run for the Senate seat in Homa Bay County.
The minister told a church function in his constituency that he would not defend his Mbita Parliamentary seat, which he has held for three consecutive terms, in the next election.
Mr Kajwang' said he was responding to calls from residents of Homa Bay County.
Mr Kajwang will face youthful businessman Hillary Alila who, so far, has been the only one to declare interest in the position.
The governors job has attracted former Marie Stopes Kenya chief executive Cyprian Awiti, Communications Commission of Kenya chairman Philip Okundi and Rangwe MP Martin Otieno Ogindo.
What Are Your Thoughts
Share with us what you think about this article