A man was on Saturday evening, September 26, captured on a CCTV vandalizing a vehicle in South B estate in Nairobi.
In a 34-second video seen by Kenyans.co.ke, the teenage-looking suspect is seen trying to unsuccessfully remove the side mirror on the driver's side before he moves to the co-drivers side and forcefully plucks out the mirror.
The young man, who seems to have hanging around the parking for a couple of minutes, also inspects other parts of the vehicle before he finally flees the scene.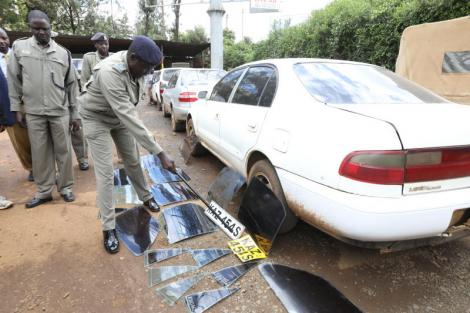 Area residents have expressed their worry over a sharp rise in car break-ins.
"This is an example of what is happening in South B Estate, around Capital Centre. A lot of spare wheels and side mirrors getting stolen, be vigilant," a resident in the area warned.
According to a 2018 Association of Kenya Insurers (AKI) report, at least 100 cars are reported as stolen to insurance companies each month.
"71% of vehicles reported stolen in the country are Toyotas followed by Isuzu (7%) and Nissan (5%). The rest constitute 17% cumulatively," the report reads in part.
There are numerous tactics which suspects use to steal vehicles or spare parts including; use of jammers, using fake number plates to disguise one for another, among others.

The incident came less than two weeks after detectives from the DCI arrested suspects captured on CCTV breaking into a car in Mombasa.The team also recovered a vehicle from the suspect's home believed to have been used as the getaway car. "Following credible information from members of the public, a team of detectives has arrested [the suspect] from his home in Kiembeni and recovered a Toyota Ractis," a statement by the DCI reads in part.
SOURCE: kenyans.co.ke
What Are Your Thoughts
Share with us what you think about this article