The National Transport and Safety Authority (NTSA) on Monday, March 9 announced a raft of punitive actions to be taken after a matatu driver was captured driving recklessly in a widely circulated video.
In the viral video first shared on Saturday, March 7, a NNUS Sacco driver was recorded by a passenger in the matatu as he used his phone on the road, one hand on the steering wheel.
In a statement, NTSA announced that the driver, Johanna Ndungu, would have his Public Service Vehicle (PSV) licence withdrawn and his Driver's Licence suspended.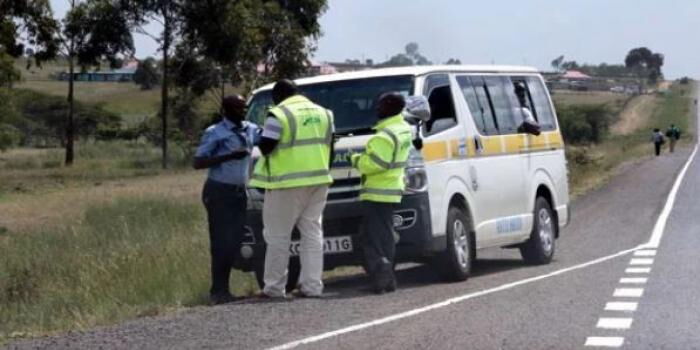 The body further announced that all drivers at NNUS Sacco would undergo a mandatory road safety sensitization within the next five days.
The decision was taken after a meeting between NTSA officers and officials of NNUS Sacco on Monday, March 9.
"The action of the driver not only endangered his life but also that of innocent passengers and other road users.
"We applaud the action of the bold passenger who recorded the incident and we urge members of the public to continue supporting the Authority in weeding out rogue drivers in order to keep our roads safe," the statement read in part.
The video had sparked an uproar as Kenyans on social media demanded that the NTSA and the police intervene to punish the driver for risking passengers' lives.
"I think we as passengers should not stay quiet anymore," wrote Joseph Thiong'o.
"The phobia I have for accidents, I can't even receive a call or look at my phone while driving. But careful people like us most probably get killed by maniacs like this," lamented Njeri Kageni.
"You have the voice, yesterday I warned the driver to avoid using the phone while driving," noted Samuel Kiarie.

It is not the first time NTSA responded to a video shared online of reckless driving.
In August 2019, the management of Naboka Travellers Sacco was summoned and a driver's licence withdrawn after a video went viral.
The video had captured a Naboka Travellers Sacco 14-seater matatu being recklessly driven on a blind corner.

SOURCE: kenyans.co.ke

What Are Your Thoughts
Share with us what you think about this article