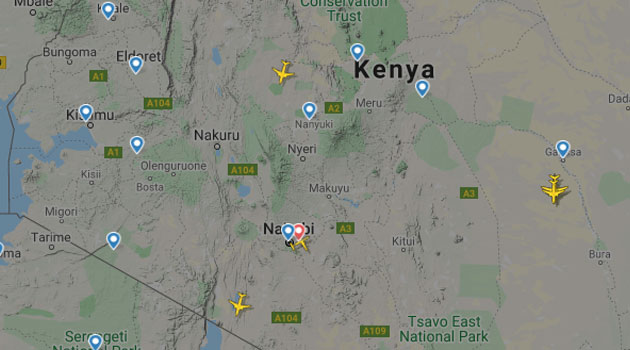 NAIROBI, Kenya Mar 23 – The Kenyan airspace has experienced reduced flights in the wake of COVID-19 outbreak which forced the government to impose travel restrictions with a ban on international flights set to take effect Wednesday.
A look at Flightradar24 at around 10am Monday morning showed two inbound flights and two outbound international flights in addition to two local flights and one chartered flight.
Outbound flights were heading to Dar es Salaam and London with inbound flights coming from Dubai and New York.
A similar situation was witnessed at 3pm on Sunday, there being only one international flight and two domestic flights.
Kenya Airways has indicated it has reduced its flights by 60 per cent as passenger numbers reduced drastically in the wake of the coronavirus pandemic which has taken a toll on airline revenues.
The national carrier suspended various routes amid shutdowns as the airline industry grapples with the threat caused by the novel coronavirus which had claimed nearly 15,000 lives by Monday and infected more than 350,000 worldwide.
Meanwhile, the national carrier has welcomed the move to ban international flights saying it had been difficult to offer international passengers services since it had reduced over 70 per cent of its network.
"We have therefore temporarily suspended all international services effective midnight 25th March 2020, until further notice.
"We will continue to operate cargo flights particularly so that we are available to offer emergency services or much needed supplies. In the meantime, our domestic flights to Mombasa and Kisumu remain operational," the statement issued by KQ indicated.
Moses Ndiema, the Secretary General, Kenya Aviation Workers Union (KAWU), Friday indicated the Jomo Kenyatta International Airport (JKIA) received 14 inbound flights against a normal of around 200.
"Of the 14, we only had 800 arriving passengers from an average of 5,000 normally when airport and airlines are functions normally," he told Citizen Television.

SOURCE: capitalfm.co.ke

What Are Your Thoughts
Share with us what you think about this article