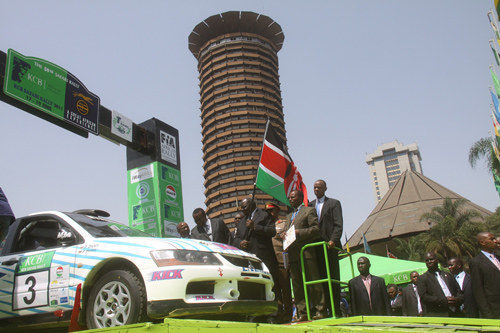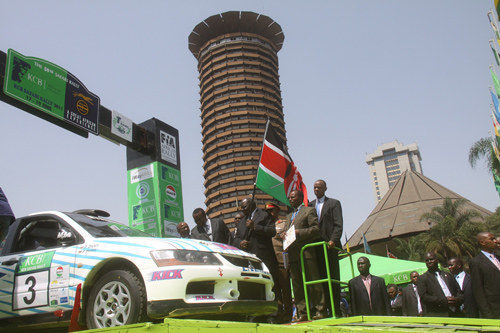 Reconnaissance for 60th KCB Safari Rally took place last Saturday and Sunday with a real challenging event being anticipated. The event runs from Friday through to Sunday in Kajiado and Il-Bissel regions. Local based drivers and navigators had a feel of the rigorous 672.97 kilometer route during  reconnaissance "recce" and predicted a real tough Safari. Foreign drivers will start arriving in the country from today well in time for their recce sessions scheduled for Wednesday and Thursday. Locals involved in this Sunday's Rhino Charge however have a special dispensation from Clerk of the Course Dali Kalsi and will instead recce together with foreigners next week.
Among the locals involved in the Rhino Charge are Ian Duncan, navigator Raju Chagger, Nish Lakhani and Rajesh Maini among others. Leg 1B on June 9 has a competitive distance of 184.16km and transport road section totaling 172.69km. Day 3 action has a competitive mileage of 138kilometers and a transport distance of 173 kilometers. The prestigious rally will come to a conclusion on June 10 at KICC. After a rigorous reconnaissance, Mombasa based Corner Garage sponsored driver Paras Pandya and his co-driver Falgun Bhojak exuded confidence. "Its twisty, rough, long and has washaways too.
We intend to drive cautiously and clean. And we want to see how we can maintain the energy levels high enough to keep concentrations," said Paras. Sudesh Hirani "Hakuuz" of Mombasa will a Subaru N10 was in high spirits after recce. "Recce was tiring and tough especially on the 87 km section," said Hakuuz. Formula Two driver Gurmit Thethy was full of confidence. "It was good … Very tiring though, stages are fast, tough, tricky and fun with some rough here and there.
The 87km stage is deadly though it needs a lot of concentration because of the distance. After a while you start thinking when its going to finish and stuff like that.  Navigator gets tired of reading notes for so long and the driver takes a toll also so its very easy to make a mistake on this long stage," said Gurmit. The much-talked-about all-ladies crew featuring Haraka Mamas' Joan Nesbitt and Tamara Johns alongside the Rally Queens, KTN Rally Team of Anne Ngugi and Joy Doreen Biria, Warembo Bila Make Up which has Stella Macharia and Helen Shiri and Ladies Luck – Michelle Van Tongaren and Safina Sayed Khan -will all be trying to break the monopoly of their male counterparts when the rally revs off.
Tongaren, multiple winner of the Coupe Des Dames diadem, is back in the groove after an eight-year absence and it will be interesting to observe what's up her sleeves in what is one of the biggest entry recorded in recent history. Over 80 driver have entered the event which counts towards the fourth round of the FIA African Rally Championship and the Kenya National Rally Championship.
What Are Your Thoughts
Share with us what you think about this article