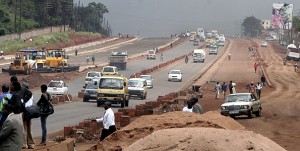 Kenya's sharp turn to the East for business and development financing under the Kibaki government has toppled European countries from their long-held position as the country's leading sources of foreign investment.
The latest economic data shows that China, South Africa, India and South Korea have risen to stand among the top five sources of foreign direct investment (FDI) for Kenya, knocking off the UK, Germany and the Netherlands who have occupied the space since independence.
The Kenya Investment Authority said the change in FDI pecking order deepened in the past couple of years as the majority of developed countries – under the shockwaves of debt crises – cut back on foreign investment while emerging economies scaled up their search for new business opportunities in frontier markets.
In the first six months of this year, China, South Africa, India and South Korea invested a total of Sh4.4 billion to make four out of five top sources of FDI for Kenya. Kenya Investment Authority data shows that most of the investment went into manufacturing, energy, tourism and construction sectors.
China has become Kenya's leading source of FDI after it pumped Sh2.5 billion into the economy, seeking to consolidate its new-found economic clout in the country.
The Chinese broke into Kenya's list of leading FDI sources last year with a total investment of Sh40.2 billion.
Developed economies, including Israel, Canada, Germany and Italy lost clout after each invested less than Sh500 million in Kenya last year.
Kenya's former coloniser, the UK, recorded the largest decline in FDI flows to Kenya in recent years.
The country's FDI in Kenya stood at Sh202 million in the first six months of the year, placing it sixth in the FDI table. That ranking represented a major drop from 2009 when it topped Kenya's FDI table with investments worth Sh19.6 billion.
Kenya has recently made clear its intention to speed up this shift with an East-bound diplomatic charm offensive led by President Kibaki.
Since coming to power in 2003, Mr Kibaki has visited all the emerging market states that are now ranked top in the list of FDI sources but has not travelled to any of the industrialised economies that topped the list in the past save for the US.
In Kenya, the growing influence of the emerging economies is being viewed as a positive move that not only offers the government an easier foreign policy management window but also helps to expand the jobs market through establishment of new ventures.
"Developed economies usually attach strings to their FDI besides being overly risk-averse making less reliance on them for investment critical," said Joseph Kieyah, an analyst at the Kenya Institute of Public Policy Research and Analysis (Kippra).
Prof Kieyah said the development challenges that Kenya faces, including poor infrastructure and lack of jobs, should raise the country's interest in FDI flows to the labour-intensive sectors such as manufacturing.
Investment from emerging economies should also translate into affordable pricing of big-ticket public infrastructure projects and consumer goods for Kenya.
Emerging markets companies have traditionally tended to charge lower prices compared to their developed countries' counterparts in cases where both are competing for contracts in frontier markets.
Sammy Onyango, the chief executive of Deloitte Eastern Africa, said that the low cost model – supported by cheaper technologies and low labour costs — is the magnet that is attracting many African countries to the East.
A number of Sub-Saharan African countries have in the past 10 years been spending less on building and maintenance of roads, railways and energy sources with the rising presence of Chinese firms.
"Developed economies have fully exploited traditional sectors like agriculture and are now focused on top-end infrastructure businesses for which they charge relatively higher prices," Mr Onyango said.
More recently, for instance, Chinese and Indian firms have been establishing auto assembly plants and expanding their distribution networks in Kenya, offering new frontiers in the fight for control of the local market against their higher-priced European rivals.
This year, Chery Automobiles has announced plans to build an assembly plant in Kenya, following in the footsteps of Chinese rival Foton Motors which is building a Sh1.2 billion assembly plant on Mombasa Road, Nairobi.
President Kibaki has actively encouraged a deepening of economic ties with the emerging economies as part of a broader plan to reduce Kenya's reliance on the West for fiscal, trade and technical co-operation.
UK companies have increasingly lost business in Kenya, thanks to the change in diplomatic stance that has favoured South-South co-operation since Mr Kibaki came to power in 2003.
For instance, the government has been buying Toyota Land Cruisers for its agencies, including the police, a business that the British — through their Land Rover brand has dominated since independence.
Since coming to power, Mr Kibaki has chosen to work with the US for security matters and looked East for economic support that comes with less conditions.
Tumultuous political scene
China has, for instance, kept its distance from Kenya's tumultuous political scene and was among the few countries that supported Kenya's bid to have the UN Security Council defer post-election violence cases at the International Criminal Court.
Kenya is now pursuing a new business-centred diplomacy with an eye on diversifying sources of foreign direct investment.
Early this year, the Ministry of Foreign Affairs said it was hiring foreigners to head the commercial departments of its diplomatic missions across the globe.
The plan is to bring on board professionals with the right skills and networks to head the charm offensive to increase FDI flows.
"Emerging economies better understand and identify with risks in Africa that are sometimes overestimated," Mr Onyango said, adding that double digit returns have made Africa more attractive to investors across the globe.
What Are Your Thoughts
Share with us what you think about this article