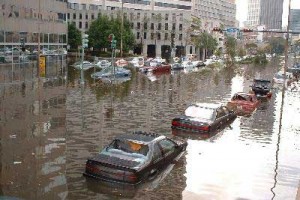 The year 2005 was the year of the hurricanes - led by Katrina - which wrecked havoc on America. Apart from killing people and uprooting homes these hurricanes bashed up some 600,000 cars and insurance companies designated most of these flood-damaged cars as total losses. Insurance companies crushed up and destroyed many hurricane cars and many of these smash hits ended up as scrap metal in junkyards. But some flood-damaged cars were picked up for close-to-nothing prices by unscrupulous automotive dealers, who later refurbished them and put them on sale - as immaculate used cars - in other states far away from where disaster struck, for buyers like you and me.
Driving water-damaged cars
Many hurricane cars were parked in stagnant water for over a month before they were "rescued". This watery interaction gave them contamination, rust, and molding. Their electrical and transmission systems were also hit badly. And many of these very cars are out there with dealers - many are already sold and the unsold ones are parked in dealer lots. These cars can have the following defects:
In a flood-damaged car all the electrical components would sooner or later corrode and would need to be fully replaced.
The anti-lock brakes would be in a compromised state and may fail anytime.
Many parts would have started rusting and their breaking down or giving persistent trouble is just a matter of time.
Their engines might fizzle out suddenly without a warning.
Car safety features such as airbags may not work.
These cars pose health risks to people suffering from breathing disorders. Plus, the accumulated and invisible mold and moisture can well trigger off allergies too.
Remember, flood-damaged cars have been swimming in contaminated waters for a long time. If you get a cut from their metal, you run the risk of getting infected.
How to avoid getting a hurricane car
The national Insurance Crime Bureau (NICB) (https://www.nicb.org/cps/rde/xchg/nicb) has a database of flood-damaged cars. You can enter the vehicle identification number and check if you are being sold a hurricane car. The NICB site only informs you about cars that were smashed up by hurricanes Katrina, Rita, and Wilma. The flip side is that if the car i s no t insured then it will not show up in their database.
Additionally, a report from Carfax.com will be of great help as Carfax.com is including information in its reports about cars that were registered in areas affected by natural disasters. Carfax.com charges a few dollars for their reports, but it is worth every cent.
You can get an expert to inspect a used car before you buy it. These guys can figure out underbody rust and moldy smells. They charge under $ 100 for an inspection, but they may save you much more.
Flood-damaged cars and the law
A dealer can easily get a clear title to a flood-damaged car. Assume a used car's sale value is $ 25,000. Because it was flood-damaged, it was sold at an auction for $ 4,000, which a dealer paid. Now, this dealer gets a clear title and what he will do is spend another $ 4,000 and make it as good as an ordinary used car. Then he will place it on sale for $ 25,000, and if it sells then he makes a clean profit of $ 17,000.
The question is what happens if you buy such a car?
If you are saddled with a flood-damaged car then you should lodge a complaint with the State Attorney general's Office and engage an auto fraud lawyer. Many states have informed buyers that if they end up buying hurricane cars, they should call toll free numbers or email them the information.
Some state laws read like this (ad verbatim)
The term "total loss" means a motor vehicle which has sustained damages equivalent to seventy-five percent or more of the market value as determined by the most current National Automobile Dealers Association Handbook.
However, a motor vehicle that sustains cosmetic damages caused by hail equivalent to seventy-five percent or more of its market value as a result of costs for repairs to items such as wind-shields, windows, and rear glass, exterior paint and paint materials, and body damage such as dents shall not be deemed a "total loss" and salvaged; however, such vehicles shall be issued a branded title indicating the vehicle has sustained hail damage
So, you should realize that even if a car had been submerged in water it is possible for it to escape being labelled as a hurricane by the insurance company if the sustained damages entail less than 75% of its market value. This upper limit of 75% damage can be considered as good as totally damaged for all practical purposes, but then laws are laws, they have to be followed. The above law is from the Louisiana Law Books. Doubtless, other states too will be having laws on similar lines.
If you have bought such a car, you can send an email to stopscam@earthlink.net and tell them about who sold you the car. If you suspect a dealer of knowingly selling a flood-damaged car then you should inform the NICB immediately before some unsuspecting buyer picks up such a car.
Article adapted from http://www.iusedauto.com/used-cars-articles/flood-damage-cars.htm