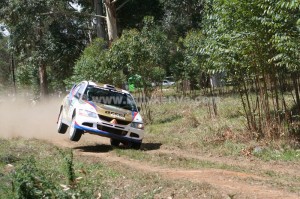 After fighting for a top finish in many rallies this year, the "gods of the valley" finally answered Azar Anwar's prayers as the three-time former National Champion zoomed to victory in the action-packed KCB SME Banking Rally in Eldoret at the weekend.
Anwar beat Ian Duncan by a mere 17 seconds to pull through following a steady run in the high altitude region that proved a difficult terrain for many drivers at the event on Sunday.
Driving a Daihatsu Hybrid, Nairobi's Adnan Suhail also ended months of mechanical problems to claim the 2WD title by 2.59 minutes margin from Kisumu-based newcomer Niaz Bashir who only got sponsors in the last minute to take part in the event after missing out in the KCB Bankika Rally.
Anwar of Oilibya Racing Team was full of excitement as he drove his Evolution 8 car to the Cheptiret Primary School service prior to the ceremonial finish at the KCB Uganda Road Branch.
Anwar, 56, ended five-years of jinx and frustration in Eldoret, incidentally, the same KNRC event he last won in 2006.
Eldoret, which has been known to produce surprises, saw Baldev Chager, defending champion Alastair Cavenagh and Carl Tundo fall by the wayside.
Chager suffered turbo problems and had to drop out of the race in the early morning run, while Cavenagh had his run hindered when his navigator Gavin Laurence fell sick. With Chager and Cavenagh gone, Duncan was well on course for a second successive win, but his lead was short-lived after his car had a puncture on the first run of the rough 35km Chebulbul-FF Uhuru Stage.
As at CS6, Horsey was leading the Western Kenya Motor Club (WKMC) event with a minute ahead of Anwar until a puncture dipped him to third overall. Onkar Rai posted his career best fourth in his Eldoret home turf.
The competitive stages around Kaptagat Forest, Kapng'etich and Flax areas proved quite unforgiving to the big boys who kept abreast of subsequent proceedings disappointed. Punctures also proved quite a threat to teams as Horsey lost his lead to Anwar on the rough CS7 Chebulbul stage.
Horsey, who unveiled his state-of-the-art Evolution 10 machine, was quite excited of the 2011 season campaign.
"The car is a step further than the EVO9s and I hope to win the championship this season before the big boys win," said Horsey.
Anwar admitted he was not aggressive so as to avoid punctures.
"We were going steadily to avoid punctures because almost everybody was experiencing problems," said Azar.
This was Anwar's third win in Eldoret after winning it in 1989, 2006 and this year.
Duncan now leads the KNRC series with 190 points.
KNRC Results
1. Azar Anwar/Julius Ngige (EVO8) 1h22m04s
2. Ian Duncan/A SLatch (EVO9) 1h22m21s
3. Alex Horsey/Frank Gitau (EVO10) 1h25m33s
4. Onkar Rai/Andrew Doig (Subaru N12) 1h27m50s
5. Tejvir Rai/Bharat Pattni (Subaru) 1h28m29s
6. Jaswinder Chana/Ravi Chana (Toyota Celica GT4) 1h29m23s
7. Jas Mangat (Subaru N10) 1h30m04s
8. Sandeep Jandu/Gurdeep Mehangra (Subaru) 1h30m10s
9. Stefano Rocca/Franco Donadel (Datsun 260Z) 1h30m16s
10. Anwar Pandya/Ken Masoni (Subaru N10) 1h31m36s
11. Charles Hinga/Norris Ongalo (EVO8) 1h32m33s
12. Khuram Bhutt/Salim Khan (Subaru N10) 1h33m31s
13. Dr Ahmed Ashraf/Daniel Ayebare 1h36m22s
14. Simon Tysoe/Imran Khan (Ford Escort) 1h36m53s
15. Aslam Khan/Asad Khan (Ford Escort) 1h38m45s
16. Issa Amwari/Job Njiru (Subaru) 1h43m22s
17. Jasmeet Chana/G Njoroge (Toyota Celica GT4) 1h43m35s
18. Sudesh Hirani/Mutuma Marimba (Subaru Legacy) 1h46m50s
19. Jitendra Dhokia/Gurdeep Panesar (Subaru N10) 1h48m28s
20. Khalid Umar/Shakil Umar (Subaru) 1h50m00s
2WD RESULTS
1. Adnan Suhail/Absalom Aswani (Daihatsu) 1.02.54
2. Niaz Bashir/J Kosgey (Toyota Levin ) 1.05.53
3.Naveed Khalid/Riyaz (Toyota Levin) 1.06.59
4. James Kirimi/KImeli Korir (VW Golf) 1.09.36
5. Nadeem Kana/James Mwangi (VW Golf) 1.10.39
6. Joan Nesbit/Dr Tamara K Jones (Toyota Celest) 1.12.25
7. Imran Kana/Mohammed S Mohammed (Toyota L) 1.12.39
Article source: http://www.standardmedia.co.ke/sports/InsidePage.php?id=2000033917&cid=145&story=Anwar%20drives%20to%20victory%20in%20Eldoret%20rally
What Are Your Thoughts
Share with us what you think about this article