Calgary auto dealers brace for shortages
The effects of Japan's earthquake disaster are coming to new car lots across Calgary, following warnings of expected shortages of vehicles and parts.
Dealers are predicting significant sales impacts after major Japanese automakers including Toyota, Nissan and Honda warned assembly disruptions caused by last month's deadly earthquake and tsunami will effect supplies in the coming months.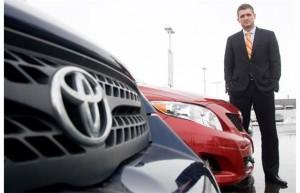 And while analysts say Toyota and others have a sufficient supply of vehicles into May, new car deliveries are about to shrink.
"We've been told to basically tighten our belts because the product's going to get very short," said Corry Baum, general manager of Stampede Toyota. "The product shortage is going to definitely hit us in the next month or so."
Toyota, in a recent memorandum to dealers, advised it would build vehicles at "significantly reduced levels."
"We just won't be able to get the cars," said Baum. "We sell over 100 cars a month and my last allocation was for 40. We're going to run out of cars here pretty quick."
"Now things could change in the next month. There's definitely going to be shortages. How deep that's going to run we don't know yet. Either way, sales are going to be dramatically affected because we're just not going to have the product available to really maximize."
The threat to sales in the coming months follows a Statistics Canada report Thursday that showed new motor vehicle sales in Alberta hit 16,970 units in February, up almost one per cent from January but down 2.6 per cent compared to a year earlier. Nationally, new vehicle sales of 130,843 were down 0.6 per cent from the previous month and 5.4 per cent on a year-overyear basis.
Weaker truck sales drove the decline in February nationally, said Statistics Canada.
Business was better last month, when 18,988 new vehicle were sold in Alberta, a 10.8 per cent jump from March 2010, according to DesRosiers Automotive Consultants.
Year-to-date sales of 45,149 new vehicles represent a 5.3 per cent increase, DesRosiers reports.
The situation in Japan "likely means a very weak second quarter in terms of the overall market," said Dennis DesRosiers. "It could take as many as 30,000 units out of the second quarter but most of those units would be added back in the third quarter, or fourth quarter or into next year.
DesRosiers said it's unlikely new vehicle prices will rise as dealers still have a fair amount of new inventory and consumers are willing to wait for a vehicle.
Tony Dilawri, of the Dilawri Automotive Group, which includes Calgary Honda, said not all models are made in Japan anymore. Many are
produced in North America.
"We will find that both Honda and all the Japanese manufacturers that have manufacturing over there, there will be a shortage of supply coming up within the next couple of months," he said.
"I don't think it's going to be a horrible situation, but I think consumers are going to have to be cognizant of the issue that's there. And if they're expecting that 'I have to have this blue colour and only this blue colour' they may have to wait on certain things."
Nissan, Toyota and Honda have all announced they're gradually increasing output after the 9-magnitude earthquake and tsunami halted auto production.
Given the anticipation of significant summer shortages, the rival carmakers are co-operating on the purchase of essential components, most notably semiconductors, or microcontrollers, used in automobile engines and brakes, McClatchy News Service reported Thursday.
Jim Gillespie, executive manager of the Calgary Motor Dealers Association, said dealers and customers will eventually be affected in terms of parts manufacturing.
"I don't think it has yet because there's enough metal in the pipeline because there's always a couple of months of supply making its way across the water and in ports."
Gillespie said it remains uncertain how the auto plants in Japan are going to be able to regain full productivity.
"There's very little information about the damage … It's kind of hard to predict," he said.
Shahrzad Mobasher Fard, an economist with TD Economics, said the expected supply disruptions could also hit non-Japanese brands which rely on Japanese manufactured parts in their assembly.
"This pullback in demand can be expected to be provisional, however, with some anticipated catch up in sales during the period following the disruptions," said Fard.
Some automakers were forced earlier this month to find alternative suppliers or limit or suspend orders for vehicles in several colours due to the shortage of a paint pigment produced solely in Japan.
mtoneguzzi@calgaryherald.com
Source: http://www.calgaryherald.com/news/Calgary+auto+dealers+brace+shortages+after+Japan+tsunami+earthquake/4619079/story.html#ixzz1KbuLr3F2