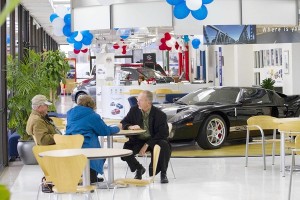 Consumers bought more new cars in March, giving the auto industry a big boost, but the surge in demand and shrinking supplies are fueling worries of higher vehicle prices.
Automakers sold more than 1.2 million vehicles in the U.S. last month, up 16.9% from the same period a year earlier, Autodata Corp. said Friday.
Small cars and hybrids were among the hottest sellers. Sales of Toyota Motor Corp.'s Prius hybrid rose 58% and the company has barely a two-week supply of the cars. Production delays caused by the March 11 earthquake in Japan are expected to shrink the inventory even more.
And that is already translating into higher sticker prices.
"We are seeing general price increases going across the entire industry right now. It has been pretty uniform," said Bob Carter, Toyota Division group vice president.
In addition to higher costs for the Prius, Toyota will raise its prices by an average of 1.7% starting in May. The popular Camry will go up $375, the Highlander SUV by $550.
Al Castignetti, general manager of the Nissan brand in the U.S., said he was also seeing prices rise. "A lot of this is due to raw-material costs and the economy coming back," he said.
General Motors Co. and Ford Motor Co. executives declined to comment on price trends. GM slashed the incentives and discounts it offered in January and February by more than $600 to an average $3,109 in March, according to auto information company TrueCar Inc. Overall, industry incentives fells 5.6% from February to March, TrueCar said.
"The incentives are fading," said Jesse Toprak, an analyst with TrueCar. "The industry is doing a better job of selling the cars that people want to buy so that [the automakers] don't have to spend as much on incentives."
Part of the increases are coming from tight supplies of smaller cars with the best fuel economy.
Nissan has less than a 30-day supply of small cars such as the Versa, Sentra and Rogue. Ford's supply of the gas-sipping Fiesta subcompact fell by a third during the month to just 40 days.
Large trucks and SUVs might be an exception and could see softer pricing. Several automakers and analysts said high gas prices have shifted consumer interest to smaller cars, a trend that was somewhat masked by heavy buying by commercial businesses of vans and trucks in March.
Even used-car prices are starting to rise.
Since the Japanese earthquake, auction prices for 2- to 5-year-old compact cars such as the Honda Civic, Toyota Corolla and Ford Focus have risen about 11% compared with February, according to the National Assn. of Auto Dealers.
Auction prices for mid-sized sedans such as the Nissan Altima, Honda Accord and Chevrolet Malibu have increased by about 8.5% during the same period. Prices across the entire used-car market rose 5% in the latter half of March, compared with what the trade group said would be a normal seasonal adjustment of 3%.
The increases have tightened the spread between the prices of late-model-year used cars and current new-car prices, said Jessica Caldwell, an analyst with auto information company Edmunds Inc. The price of a typical 1-year-old Honda CR-V is about $22,200, just $1,500 below the price of a new CR-V. Similarly, the price of a 1-year-old Mazda CX-9 is $28,500, less than $1,000 below what a new model would sell for, according to Edmunds.com.
Caldwell said she's not convinced new-car prices are moving up. She also attributed the decline in incentive spending to the shift to smaller cars, which are less discounted than the larger, higher-profit vehicles.
There's no doubt that smaller cars are making up a bigger slice of auto sales. In January, compact and subcompact vehicles made up 19% of retail auto sales, said George Pipas, Ford's sales analyst. In March they accounted for about 25% of the market. Retail sales don't include autos sold to rental companies, governments and commercial sales to business.
Helped by sales of the company's new Fiesta and the Fusion sedan, Ford's sales jumped to 212,295 in March, up 19.1% compared with the same month a year earlier. That pushed the automaker past GM to become the top seller in March.
GM's sales rose to 206,621 vehicles, a 9.9% increase from March 2010.
Nissan North America Inc. said its March sales rose 26.9% to 121,141, the most it has ever sold in any month in the U.S.
Its Altima sedan was the bestselling passenger car in America for the first time.
Sales were bolstered by a favorable review by Consumer Reports magazine, and Nissan has advertised the vehicle heavily, said Castignetti, adding, "We have nipped on the heels of the Honda Accord for several times, but this is the first time we have ever surpassed Camry."
Article source: http://www.latimes.com/business/autos/la-fi-autos-prices-20110402,0,6897470.story
What Are Your Thoughts
Share with us what you think about this article