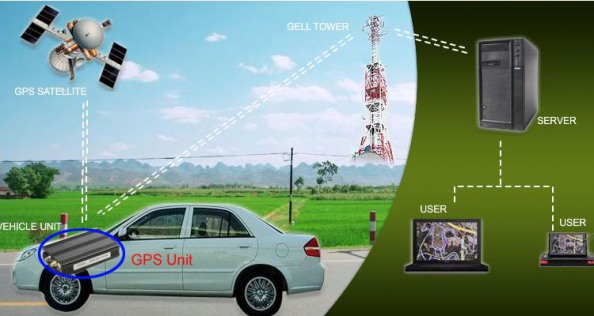 A car track device is of immense value to safeguard one's prized asset and status symbol, The Car.
As much as the device is of importance, it may end up being a source of great loss and a threat to your own security if it's not installed by a GENUINE tracking company, as the couple in the following letter sent to Mombasa411 found out.
Beware.
NOTE: Letter Edited For Clarity
–
It all begun on Saturday 9th july. We stay in Kikuyu and on that day my husband Mbugua, Our Baby and me decided to go and see our land that that we had bought in a Juja farm.
A Farm In Juja, Nairobi
The land is located 8 kilometres off the Thika super high way and it was around 2pm.   We entered our white Toyota NZE which my husband bought a week earlier at a car yard along Ngong road Nairobi.
Let me take you back a bit to the day we bought the car… When we bought the car my husband who is so keen on security decided to go and install a car alarm. It was while we were there that a man came and introduced himself as Mwaura just afterwe had finalised the deal and advised us instead of putting the alarms we should instead install a tracking device on the vehicle.
He furtheradvised us that we should not go to the well established offices because they would charge high prices for the tracking device. We took his number and told him that we would get back to him as he was offering to
install a traking device at only 12,000/= shillings. He even gave us directions to where we can get him at Ngara.
We decided to shop other companies to find out the truth  and found out they charge 25000/= to 35000/= for the tracking device. We decided that since these companies were expensive we should go for Mwauras tracking devices as they offer more features. My husband called Mwaura the following day and decided to install a tracking device from him although he had no office and i guess no papers to do the work.
We reached Ngara where he installed a tracking device and showed my husband how to track using his phone and he even accepted 6000/= as down payment the rest was to be paid within 30 days.
How A GPS Tracking Device Works
We were satisfied knowing that our car was safe and knew we had gotten the best bargain….
Now back to my story. We reached the Juja Farm around 5.30 pm as we had stopped at a club called By pass for some meat. We started viewing our land interviewing people to know the current value of our land. We were so happy as we had bought the land for 30,000/= in 2002 and now the land was valued at 350,000/=.
As we were viewing other pieces of land in the area my husband told me that some men who overtook us looked familiar but we ignored. We finished our business and decided to head back home as it was getting late. We started our journey back home and as we were going thru that dirt road to join the high way our car suddenly stopped.
We wondered why it happened as the fuel was still quarter tank full and the car had been serviced. When it stopped my husband opened the bonnetto check what was wrong. Upon opening the bonnet, the car with three men stopped besides us and one of them pointed a gun at my husband. I was about to scream when all over sudden the second man pulled a knife on me.
I kept quite as the two men ordered as back into the car. One man used his phone to restart the car and all of us drove off. I guess someone with the codes stopped the car.  At the time I just held my baby close to me as one man was busy molesting me.
My husband had been bundled in the boot. We drove for what seemed to be eternity to a secluded place where the thieves stopped. The thieves opened the bonnet and removed the tracking device right in front of my face. It's like they had all the information on the tracking gadget.
They stripped us and one of the thugs tied us together and they went with our baby. This was after they raped me for a few minutes. We were left there for some time. My husband was unconscious by then as they had beaten him. We stayed there the whole night and in the morning a passerby rescued us.
We were rushed to Thika district hospital after which we ended up in Kenyatta as my husband had major injuries. I was the first to be discharged and started looking for our baby.
Fortunately we found her at a police station abandoned having been
brought in by a Good Samaritan. My husband was discharged two weeks later, we are now recuperating.
We went to the police station and on trying to reach mwaura his phone was off and we are yet to find our car despite reporting to the police.
The investigation are ongoing and cant divulge alot of info now but  What i have been told is that there is a cartel of thugs installing tracking devices in Ngara, Hurlingham, Ngong road e.t.c. .
What i can't understand is who is licensing these people to start tracking as the other day my friend told me a colleague where she works buys tracking devices and install in people cars.
I thought this is asecurity issue and the government should vet tracking companies. I was told they are supposed to be vetted  by CCK but who goes around checking?
MWAURAS COMPANY WAS CALLED SIMBA TRACK does CCK know of such a company? If any Tom Dick and Harry can order units from China and install in our car how safe are we?
This is a security issue and should be treated with the seriousness it deserves.
I BLAME THE GOVERMENT FOR NOT PROTECTING ME . I BLAME THE GOVERMENT FOR RAPING ME AND I BLAME THE GOVERMENT  FOR LETTING THUGS DISGUISE THEMSELF AND STEAL FROM US.
Does it mean security business are not vetted and all this individuals should be known i.e banks
I HOPE NOBODY EVER SUFFERS THIS FATE JUST BE CAREFUL WHICH COMPANY INSTALLS THE TRACKING UNITS OR OFFERS SECURITY THEY MAY BE THE THIEVES.
I want answers.
Adopted from:http://mombasa411.wordpress.com/2011/09/23/why-you-should-think-twice-when-installing-a-car-tracking-device-for-your-car/
What Are Your Thoughts
Share with us what you think about this article