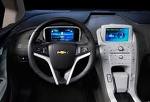 It's General Motors' answer for those of us who can't even remember to plug in our cellphones: An electric car that texts or emails a gentle reminder if you walk away and forget to plug it in.
On display at the Vancouver Auto Show, the Chevy Volt - an electric/gas hybrid that can run up to 80 kilometres on its electric charge before the gas engine kicks in - was the subject of a demo of GM's mobile app Onstar MyLink.
(For the record, the car didn't actually write to me; that would have cost US$41,000 before a $7,500 rebate and then only if I bought the car in the U.S. since the Volt doesn't get to Canada until the third quarter of this year.)
While the application, which works on Apple's iPhone and iPads, as well as Android smartphones and tablet computers, keeps track of the electric components of the Volt, it also works on GM's more conventional cars.

Sitting at the breakfast table reading your newspaper on your iPad, you can flick over to your car's app to get it warmed up.
You can check your gas, check battery levels and other diagnostic information and my personal favourite - check that you locked the doors when you left the car. No more standing in line wondering.
Just pull out your smartphone or tablet and it will tell you. If you've forgotten, tap the touch screen and your doors are locked by remote control.
The MyLink app launched in the United States last fall and it's now available in Canada on many 2011 Chevrolet, Cadillac, Buick and GMC vehicles. The app is free.
Pricing for the Volt, according to Matt Crossley, GM Canada's director of Canadian programs, will be released sometime this summer, just before the car goes on sale.
While the Volt typically could take about a dollar's worth of electricity to charge overnight, you could buy a lot of gas for the roughly $20,000 difference between a regular gas compact car and its US$41,000 electric counterpart.
"Is it worth it?' I asked Crossley.
Sitting in the car with an instrument screen that's a cross between a power plant and an entertainment centre, he said, "the whole idea behind the Volt is it's an extended-range electric vehicle" that will run up to 80 kilometres on electricity only.
"So unlike a hybrid where the gas engine is going to kick in, this won't happen until the battery is depleted.
"If you're in Vancouver you could typically do most of your daily driving electric only, then let's say you want to go to Whistler every couple of weekends," said Crossley.
"No problem you'll do the first 65 kilometres on electricity, then the gas engine will kick in to provide enough electricity to keep you going and you'll be up and back."
Article adopted from: http://nbbusinessjournal.canadaeast.com/gallery/1397131,676175