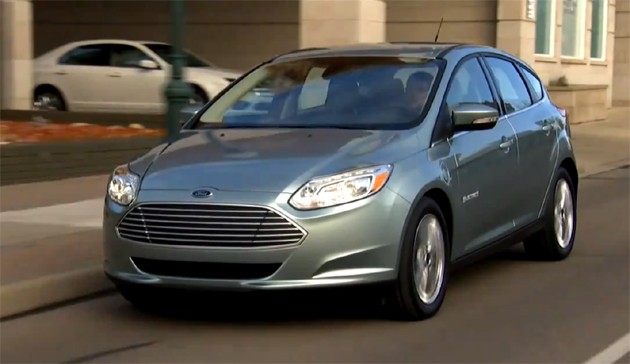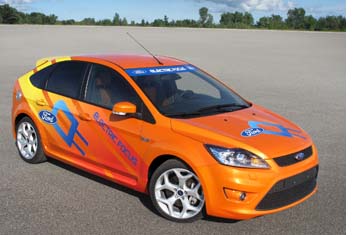 The 2012Ford Focus EV is this year's  "green car" of the year winner.The car which will hit the market latter in the year is a full electric vehicle that is rechargeable. It is specially designed to run on lithium-ion battery system that utilizes cooled and heated liquid to regulate battery temperature, for a longer battery life and maximize on the driving range. The Focus came first, winning over other top brands like the Honda Fit, Mitsubishi i-MiEV, Toyota RAV4 and Volvo C30 which are battery powered.
The car features range from a 4cylinder direct injection petrol engine, a six-speed twin clutch automatic, with an optional 5-speed manual and consumes about 5.8L/100km. The 100 mile range, five door hatchback provides many features that make it an enticing EV package, including higher speed charging, highly customizable displays, and liquid cooled/heated batteries
The benefits of driving the Focus electric car include a near silent ride, incredible efficiency, high speed internet connectivity, and extremely low per-mile operating costs. Other than the features you are likely to find in every car, the Focus is on another level. With an inbuilt interactive 'My Ford Touch/SYNC system', that runs through LCD screens and an eight-inch video screen. The system can understand 10000 voice commands and guide you to locations of choice.
The music and entertainment features are to die for, the system practically makes the car  WiFi hotspot. With additional applications that allow you to connect to your phone seamlessly and message read outs and hands free call dialing.
Compared to Last year's award winner, the Nissan Leaf which was the first full electric car to make it to the final. The Alfa Romeo Giulietta that came  second and the Opel/Vauxhall Meriva coming in third. The Ford has several features that give it an edge above them all. Here are but a few of the features that set the Ford Focus on another level:
A higher speed on-board charger (6.6 kW) allowing it to be charged from standard "Level 2" 240 V home charging docks in half the time of a first generation LEAF—adding about 30 miles of driving range per hour of charging.
A actively liquid cooled and heated battery pack allowing for stable battery operation over a wide range of temperatures and lower temperature-related swings in driving range.
Highly customizable gauge cluster and center stack displays allowing drivers to make the information displayed work for them in whatever detail they desire—including battery state-of-charge and calculated driving range ( source http://www.plugincars.com/ford-focus-electric/review). To read more on the new age car, visit the following link http://www.plugincars.com/ford-focus-electric/review
What Are Your Thoughts
Share with us what you think about this article