Auto Dealers Turn to Tractors, Earthmovers to Grow Sales
Updated: January 26, 2014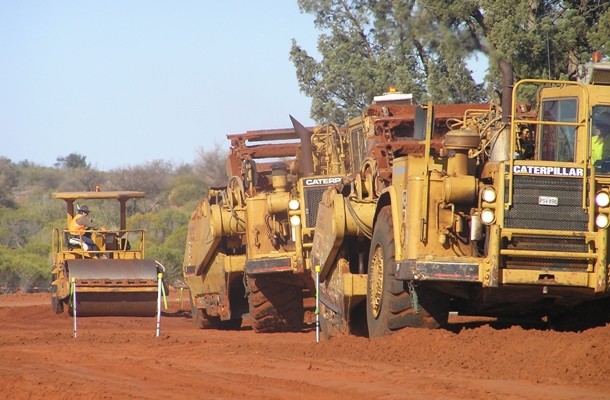 Motor vehicle firms and other heavy equipment dealers are increasingly positioning themselves to tap into the growing investments in infrastructure projects.
Major projects mostly in roads have in the recent past turned out to be major source to grow earnings for private sector companies. And the cake now seems to be expanding, with major infrastructure works set to commence while others gather momentum in the course of this year.
Many of these projects require heavy machinery that are now increasingly becoming common feature unlike in the past where users had to make special arrangements, at times even import such equipment.
Other than roads where the government has said it would continue spending, there are mega irrigation projects including the one million acres project in Tana River and Kilifi counties.
There are also energy projects, the prospecting and extraction of minerals as well as exploration of oil and gas.
And while they may not stock drilling rigs that are central in exploration works, many vendors of heavy equipment are increasingly selling equipment to support activities of exploration and production companies in the country.
It has created thriving sub-sector that is now thriving on selling high value equipment. Other than opening up opportunities for well-positioned companies, mega projects are bringing about growth of the leasing industry.
Companies selling motor vehicles in the country are among those that are considering venturing in supply of heavy equipment. This is especially given the pressure that the saloon car sales segment has been under, with the number of units declining over the last five years. Mantrac and Panafrican Equipment Kenya, both vendors of earth-movers including construction tractors and heavy-duty generators are the two main players in the Kenyan market.
In addition to market leaders Mantrac and Panafrican Equipment Kenya, there are small players, most who sell second hand earth movers, while others are involved in leasing.
Mantrac has already spent Sh160 million to expand its warehouse and renovate its premises in the Industrial Area readying for a market battle in an economy that has lined mega projects on expansion of roads, port, waterworks, farming, oil pipeline, railway and airports. And it plans to invest a further Sh24.6 million to expand its Nairobi facility to handle more equipment, spares and improve customer service. Data from the Kenya National Bureau of Statistics (KNBS) shows a sustained drop in the number of saloon cars registered in the country since 2008.
According to bureau, Kenya Revenue Authority registered 12,985 saloon cars in 2012, compared to 18,686 in 2008. This has compelled vehicle manufacturers to diversify their offering. Companies that have had diverse offering now have to increase marketing of products.
Toyota Kenya last week said it is venturing into sale of agricultural equipment including sale of tractors. The firm said it had set up an agricultural division that would be selling Yanmar and Case brand of tractors in the country.
The diversification comes after it started selling minibuses used for public service owing to the unit's growing demand.
While Toyota was not explicit on the fact that it could be angling for a share of the government plan to put a million acres under irrigation at coastal Kenya, it is evident that the firm stands to gain immensely once the project kicks off in earnest.
According to ministry of agriculture officials, the Galana and Kulalu ranches, located in Kilifi and Tana River counties, have potential to use as many as 20,000 tractors once the one million acres are put under agriculture.
The tractors are just one aspect as there accompanying equipment as well as other equipment used along the value chain from planting to harvesting, post-harvest handling and processing of the agricultural produce. "This is a massive agricultural land and will require these machinery…. on average a 50 acre piece of land will require one tractor of between 80 to 120 horsepower as well as the necessary implements," said Gitonga Mugambi director of planning and Research National Irrigation Board.
He noted that in the initial phases of the Galana and Kulalu project, there would be need to build infrastructure including access roads as well as the irrigation infrastructure. "During the construction phase, we will need to lay irrigation infrastructure from pipes to sprinklers, pumps and generators.
There are also other infrastructure projects like access roads to open up the area where bulldozers, excavators and lorries will be needed," said Mugambi. The Sh250 billion project that will be developed through a public-private partnership arrangement will concentrate not only concentrate in growing of crops but also processing and packaging so that the end product is sold directly to supermarkets and retail outlets as finished goods.
"There is huge opportunity for private sector. The government plans to just do the primary and secondary infrastructure while the private sector will do the tertiary infrastructure," said Mugambi. "The private sector will also do the farm development and the production… we want to have finished products leaving the farms which means they will also have to put up processing plants." County governments could also be major clients for agricultural and other heavy machinery. Many are now embarking on road and water infrastructure projects as well as intensifying agriculture within their jurisdictions.
Machakos County government Alfred Mutua recently said the county was in plans to acquire some 40 tractors this financial year that would be used to plough land for farmers within the county for free.
This is under an agricultural subsidy programme that aims to increase food security in Machakos by increasing the land under cultivation. He said the number of tractors would increase to 120 in the subsequent financial years.
Cliff Mukulu director Rentworks – a local firm leasing heavy machinery and industrial equipment – noted that leasing as opposed to acquisition of earthmovers, high value equipment and vehicles would enable counties move past the challenge of acquiring the equipment. Acquisitions, he reckons, also brought about the problem of tying down capital that could be used on other more pressing areas.
"Leasing makes sense for Government or institutions like hospitals that have defined income. For instance instead of spending Sh100 million in purchasing 50 cars at Sh2 million each, it would be better to lease 200 cars using the same Sh100 million for a period of four years," he said.
"The counties present an opportunity for the industry but the question is their ability to pay. For the counties, it is an opportunity for them to fast track on different areas that are lagging behind they may not have the money to acquire them right way."
Source: Standard Digital News