Unlocking Billions Caught in Nairobi's Traffic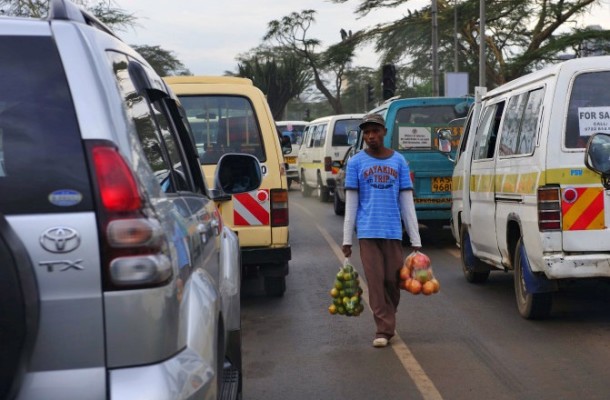 Traffic congestion is an all too familiar bane in Nairobi, everyday stuck in traffic, amidst buses, cars, and motorbikes make life unbearable. But it is the economic gridlock that they cause that bears the consequences of this scourge. In Nairobi, traffic jam cost the economy billions of shillings annually in lost man hours as workers report to work late delaying goods and services due to the daily gridlock.
Attempts to deal with the problems causing the traffic log jams in Nairobi have been on the cards for a while, but whenever they are being rolled-out, the process usually hits a snag. Nairobi City made its debut attempt to decongest the Central Business Centre (CBD) in 2012 by raising the parking fees in the city centre from Sh140 per vehicle to Sh300 per day. Nairobi County officials thought the move was ideal in helping it to get rid of vehicles that cause congestion and pollution.
But some stakeholders refused and took the matter to court arguing that they were not consulted when the decision was arrived at. The recent strike by public transport operators that paralysed business in Nairobi is a reminder of stakeholders trying to go against efforts to end traffic jam in the city. A study done in 2012 by IBM Corporation, a multinational technology and consulting company, revealed that Kenya loses close to Sh50 million daily due to traffic congestion in the city of Nairobi and its environs.
When the construction of Thika Superhighway began, people considered it the answer to traffic congestion, but experts warn that the highway must not be seen as the only solution for Nairobi's traffic congestion because it is only a short-term panacea. According to Evans Ondieki, Nairobi county executive in charge of Public Works, Roads and Transport, a lot more is being done to decongest the city. He argues that already CCTV has been put in place and eight roads are being rehabilitated to create an effective road network in the county.
Ondieki acknowledges that Nairobi as the 'engine of Kenya's economic growth', saying that congestion in Nairobi involves queuing, slower speeds and increased travel times, which impose costs on the economy and generate multiple impacts on urban regions and their inhabitants. Francis Maja, National Transport Safety Authority (NTSA) director general says that several things are being done to ensure smooth flow of traffic in the country. He says that already the Northern, Southern and Eastern bypasses have been built to ease the traffic jam in Nairobi.
While some of the projects meant to decongest the city are not yet complete, others such as those taken by the Nairobi County Government could assist in realising the objective. "When buses are stuck in traffic jams they fall behind schedule. What this means is that more people will be waiting at the next stops they fall even further behind schedule leading compounding delays," Maja says. Analysts however warn that apart from the building of the bypasses and flyovers, the Nairobi must also get its act right.
"The team must make it difficult for vehicles coming to town centre to pay hefty fees," says Ben Mapesa, an economist at ministry of Devolution. Mapesa argues that cities around the world put hefty charges to decongest the towns. "Its only in Kenya where any move made by the Government is being charged despite the heavy losses incurred due to the traffic snarl-up caused," he says.
He says this is what happens in major cities where pricing policies include cordon charges such as those implemented in Singapore, London and Stockholm, link-based pricing systems such as have been put in place on certain urban tollways, and mixed-use toll roads. "All have proven to be effective measures to reduce congestion and manage traffic. While their effectiveness is difficult to question, implementation has proved to be challenging," he says.
Edwins Mukabanah, Kenya Bus Service Management chief executive says the problems bedeviling traffic flow in Nairobi can be tackled. But says it requires good will from the Government in order to sort out the problem. "Nairobi resident must be ready to use larger commuter buses which carry many people instead of the 14 seater vehicles," he said. Three major roads in Nairobi experiencing traffic jam include Jogoo Road, Lang'ata Road and Ngong' Road.
The jam is always experienced in the morning and evening when people rush to town and back home. In these roads a commuter can take as long as three hours. Mapesa warns that although the idea of public transport system is noble, most people in Nairobi still do not buy it because the fleets rarely adhere to time schedules. "Most buses including those managed by Kenya Bus Service Management hardly keep time," he says.
But problem is that many of the fleets do not go to other routes – a move that leaves majority of commuters in the hands of transport cartels in the PSV. "Some roads are bad and rarely have security forcing bus owners to avoid them," Bruce Githenji, a commuter who leaves in Roysambu says. Githenji says that currently there are no distinct routes for vehicles plying to town centre. In several instances, the same routes are shared by various vehicles leading to insecurity and unreliability.
Source: The People