Car suspension noises can warn a driver or mechanic if there is a major problem. Auto suspension problems lead to major issues with your car. Noises, vibrations and skipping are all signs of suspension concerns.
Ensuring that your car's suspension is kept in tip top condition not only eliminates distracting and annoying noises and vibrations but unresolved issues can also cost more money to resolve in the long run. For example, a faulty front-end can cause the tires to wear unevenly and necessitate their untimely replacement, as well as cause safety issues. Car suspension noises can warn someone of issues.
To stay on top of things, ensure that you are always aware of any noise your car's suspension is making. Rattles, squeaks, thumps and grating sounds can indicate that the suspension needs to be tuned or fixed. While some issues are minor and can be easily resolved, others can be more serious, to the extent that a wheel can fall off, or the car's breaking ability can be negatively affected.
A Money Saving Tip
Before you start spending money to buy aftermarket suspension parts, check that loose nuts or bolts aren't causing the problem. Some loose panels and components can actually sound like a suspension problem, so check those also. Here are some common suspension problems and the noises they make:
A Loud thumping and Wheel Skipping On Uneven Surfaces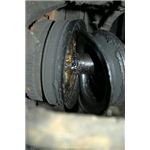 A skipping sound and vibration when the vehicle runs over uneven surfaces is a common suspension noise that usually indicates that the shock or struts are worn. To troubleshoot this issue, allow just one wheel to hit a pothole or uneven surface and listen for the skipping sound to reoccur. While you don't want to change one strut at a time, this can help you to figure out which ones have gone bad. Of course the solution to this problem is to replace any defective shock absorber.
Repetitious Cracking Suspension Noises When Turning a Corner
Especially if it is a front wheel drive vehicle, a very audible cracking (or heavy ticking) sound that gets worse the deeper the steering wheel is turned, suggests that there are CV joints problems. In most cases the sound will completely disappear when the car is running in a straight line. If this problem is left unchecked, the CV joint can become dislodged and the front end of the affected wheel, could collapse. CV joints replacement are quite involved and may take specialized equipment to complete the job, so you will need to take the vehicle to a respected auto shop.
A Grinding or Wining Sound that Increases in Pitch the Faster the Vehicle Goes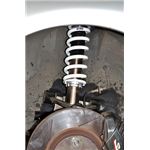 This one sounds like worn bearings; especially if the noise persists when the vehicle is running on smooth roads and in a straight line. This problem may develop after the car has been through a lot of water or has been driven on particularly rough roads lately. If this problem is left unresolved, the bearings will eventually collapse causing the car to make an awful metal grinding sound.
Checking for Suspensions Problems
Lift each wheel off the ground to better assess the suspension at that corner of the vehicle. Once the wheel is off the ground, place one hand at one corner of the wheel and the other at the opposite corner, firmly and briskly rock the wheel in all directions to ensure that there isn't any play or rattling. If there is rattling, the connecting rods, tie rod ends, control arm or bearings could be worn.
Doing a visual inspection of the vehicle's suspension can help even a novice spot suspensions problems. Examine all the components that are connected to the wheels for obvious signs of wear and tear; there should be no oil or grease leakage. Also pay close attention to the rubbers (boots) that cover joints and the shock absorbers they shouldn't be cracked or disintegrating. The boots keep the joints lubricated and free from dirt and water, if they crack, disintegrate or otherwise fail, it won't be long before more expensive repair problems will develop.
Article by Steve McFarlane (19,929 pts ) Edited & published by Jason C. Chavis (69,402 pts )
Read more: http://www.brighthub.com/diy/automotive/articles/74255.aspx#ixzz1EIVTJZGF