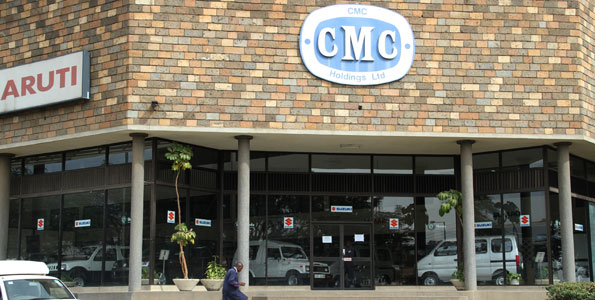 Employees of auto dealer CMC Motors on Tuesday went on strike, demanding the sacking of the firm's managing director Solomon Muturi over alleged unfair treatment.
Trouble started when Mr Muturi, who was appointed on April 1 by CMC Holdings Group CEO Bill Lay, threatened to sack nine mechanics from the Land Rover and Volkswagen divisions, according to Julius Maina, an official of the workers' union.
This prompted the mechanics to go on strike at CMC's headquarters along Nairobi's Bunyala Road on Tuesday.
When contacted, CMC finance director Mary Ngige said: "As at now, we as management have no comment to make about the issue and we will call you if we get any information to give you."
The union representing the mechanics—Amalgamated Metal Workers Union—yesterday said it will step into the row if the CMC management does not reach an amicable solution with the workers immediately.
"We have received the workers' complaints and their demand is that Mr Macharia should leave the company for his unfair treatment of staff," said Mr Maina, the deputy secretary general of the union.
"If the company does not solve this problem immediately, we shall pick it up with the Labour ministry to address the stated grievances," he said.
Mr Muturi was hired alongside Pamela Mutua—the head of Jaguar Land Rover (JLR) division—as Mr Lay moved to firm his grip in the company that has been rocked by shareholder wrangles. More than five senior managers have been replaced since Mr Lay took the helm on May 1 last year. Mr Lay replaced Martin Forster.
Some of the managers who have been replaced include Jean Pierre Lequeux (former managing director CMC Uganda), Gavin Laurence (general manager CMC Tanzania), Davinder Singh, Gregg Forster and Ken Gibson.
The auto dealer has been rocked by a boardroom war in recent months that led to suspension of its shares at the Nairobi Securities Exchange and the removal of three directors including former chairman and top shareholder Peter Muthoka.
The wrangles were set off by the ouster of Mr Muthoka on September 8 as chair of CMC after he was accused of breaching corporate governance standards by being head of the auto firm's board and a CMC supplier through Andy Forwarders.
CMC's management also accused him of overbilling the firm by up to Sh1.5 billion in a period of five years, which has sparked a series of law suits and delay in holding its annual general meeting—which was to be held before June 4.
Troubled CMC Motors has defied the wrangles to more than triple its profit in the six months to September last year, helped by foreign exchange gains that offset flat unit sales.
The car dealer reported half year net profit of Sh383.5 million compared to Sh120.1 million in the same period a year earlier as its sales increased to Sh6.3 billion from Sh6.1 billion in the period under review.
Article Courtesy of: Business Daily