15 Die as Matatu Plunges Into A Valley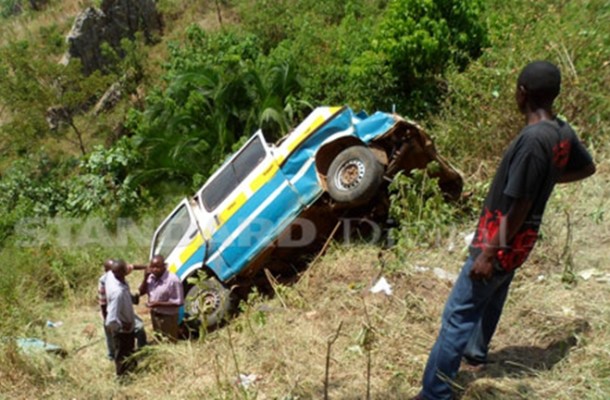 Fifteen people died in an 8:30 morning accident after a public service matatu (minivan) plunged into a ravine along Nandi Hills-Chemelil road.
The driver reportedly lost control of the vehicle before it overturned and rolled into the valley.
A survivor, Donfrey Ondieki, said the driver was unable to control the vehicle after its gears and brakes failed.
The 14-seater matatu was heading to Kisii town from Eldoret and was on a winding section of the road on the Nandi Escarpment in Chebarus Location.
It fell 800 metres down a cliff on the edge of the road. It was a mangled wreckage after hitting the bottom of the valley.
FIVE SURVIVORS
Six people survived the accident and are being treated at the Nandi Hills sub-district hospital.
Police confirmed the deaths, saying the bodies retrieved were being taken to Nandi Hills Hospital mortuary.
Members of the public were helping retrieve the bodies from the wreckage at the bottom of the valley.
Source: DAILY NATION