The exterior of the BMW Z4 Roadster.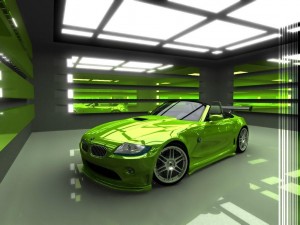 A roadster designed the way only BMW can: the classic proportions of the stretched bonnet and short overhangs are complimented by the low seats near to the rear axle to grant the driver a perfect feel for the road. The modern shape, an interplay of striking contours and soft mergers, fully captures the character of this vehicle from its characteristic kidney grille to the powerful wheelarches at the rear. However, it's the way this roadster effortlessly negotiates straights and bends that makes it truly like no other.
The interior of the BMW Z4 Roadster.

A perfect fit that leaves plenty of room for exploration. Like a well-tailored suit, the BMW Z4 Roadster is expertly customised to meet the needs of the driver. From the asymmetrical centre console to the optimally positioned instruments and round control elements that echo the legendary BMW Z8, a journey inside this vehicle offers a new discovery in elegance every time. Even with the roof closed, the overwhelming feeling of freedom remains and the bond between the driver, the vehicle and the road is as close as ever.
The retractable hardtop of the BMW Z4 Roadster.

The first BMW roadster with a hardtop. Its sophisticated design means the characteristic low-slung appearance remains unaltered even with the top down. This is possible thanks to the optimal folding of the two aluminium roof shells in approximately 20 seconds. With the top closed, the roof line of the roadster adopts a coupé-style silhouette, and the generous side and rear windows ensure captivating panorama views. Whether you choose to drive with the roof open or closed, it's never a question of style but always of the moment.
Light and precise.
The aluminium front axle on the BMW Z4 Roadster.

The aluminium double-joint tiebar axle delivers outstanding driving dynamics and excellent passenger comfort weighing around 30 percent less than normal steel axles. With equal weight distribution between axles, the BMW Z4 Roadster steers with crystal-clear precision.
Optimum visibility.
Adaptive Headlights with variable light distribution on the BMW Z4 Roadster.

On a winding road at night, Adaptive Headlights move in harmony with the bend ahead: the beams of the BMW Z4 Roadster's headlights stay on the road and the light beam is adapted according to the vehicle's speed. When driving in the city, a low beam is used to better illuminate the road immediately ahead without dazzling oncoming drivers. And when driving at higher speeds, the Xenon headlights are raised to increase visibility. The result: outstanding illumination and a more relaxed driving experience.
For more information visit: http://www.bmw.com/com/en/newvehicles/z4/z4/2009/allfacts/equipment/communication.html