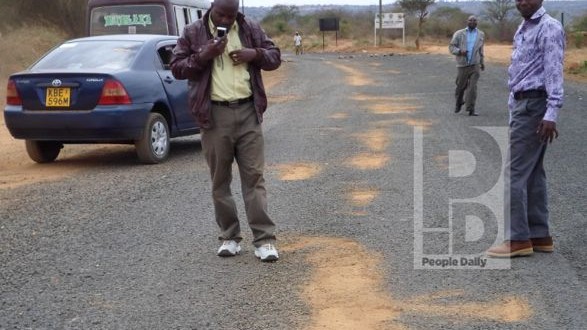 By Walter Juma
The new Makutano-Kithimani Road in Machakos county is already in a sorry state, barely two weeks after it was unveiled by Governor Alfred Mutua. Some sections of the road have potholes and patches of soil are already visible in most sections, putting the integrity of the 11 contractors who carried out the work and the entire project in question.
When it was commissioned in March by the governor, some MCAs criticised the project, claiming it was a wastage of funds. Ndalani Ward Rep Nzioki Muthuka now argues the Sh650 million project will not benefit residents because it was rushed and the contractors did a shoddy work. He claimed the contractors were rushed by the county government and that each was ordered to give back not less than Sh2 million as a kickback.
"This is like the Anglo Leasing projects that have affected the National government. We are worried because we do not know if the county government will hold some of the contractors accountable because it is like some corrupt deal was struck between them and the county government," claimed Muthuka.
The outspoken MCA also faulted the street lighting programme in the town, saying it is not a priority, adding that there are local institutions that do not have electricity. Roads executive Kioko Wa Luka, however defended the project, saying only a section of the road between Kabaa Market and Thwake River that issues. Luka said the first coat of the tarmac was destabilised by heavy lorries that were fitting electricity poles in the area before it dried.
 - Source: http://mediamaxnetwork.co.ke/