The Top 10 Most Expensive Cars in the World this year 2013
Updated: October 30, 2013
Buying a car is a simple process. You go to the dealership, pick out the one you want, and the let the haggling over the doormats and the undercoating commence.
The cars on this list, though, are a little different. Take the gorgeous new Ferrari LaFerrari. Even if you do happen to have a spare $1.13 million lying around, don't bother calling your Ferrari dealer. If Ferrari thinks you deserve of one its 499 masterpieces, it will call and offer the privilege of such a masterpiece to you.
That's what sets these dream cars apart, and makes this list of the world's top ten great cars a bit special.
Let's face it; we may never see one of these cars in the flesh – let alone own one – but that's true of the Mona Lisa, too. And that doesn't stop people traveling around the world to see her.
These cars are more than just insane pieces of engineering capable of transporting you to 60 mph faster than lightning striking a cheetah; they are cultural treasures.
Just a heads up, we've excluded classic cars that are being sold at auctions and are widely unavailable. So don't expect to see Steve McQueen's Mustang from Bullitt on here.
Ladies and gentlemen, start your checkbooks…
10. Porsche 918 Spyder - $845,000
At just shy of one million dollars, the Porsche 918 Spyder would rarely be considered cheap – even relatively speaking. But on this list, it's a bargain.
What makes the 918 special, though, is not the price, it's that the 918 Spyder comes from the future. That's right. It's a hybrid.  Don't for a second think the 918 Spyder is a poor sad Prius hobbling along in the right lane, because this bad boy has 887 horsepower, which is good for 0-60 mph in 2.8 seconds.
For comparison, that's faster than the money you'll have to plunk down for this thing can leave your bank account.
But don't worry; you will save on gas; because this Teutonic thunderbolt can go 18 miles on the lightning in its batteries alone – and still pull 82 mpg in hybrid mode. That is, as long as your commute doesn't take you around the Nürburgring. Which it should, by the way.
9. McLaren P1 $1.1M
From the same manufacturer as the legendary F1, the P1 might just live up the insane legacy of the first 230 mph production car.
Lurking underneath the carbon fiber is a 3.8 liter twin-turbo V8 which when paired with the onboard electric motor is good for 903 horsepower and 664 lb-ft of torque. The right way to think about this isn't even as a hybrid, but like a roadgoing Formula 1 car with a Kinetic Energy Recovery System. This will help you get over the fact that you can only get 9 miles on the battery.
Straight ahead speed isn't quite as lunatic as it was on the F1, with the top speed limited to a measly 217 mph. But it will get you to 60 mph in less than 3 seconds. And, it will grip and brake like the amazing Spiderman on PEDs.
If you want one, act now because they just went into production and most of the 375 are spoken for.
9. Hennessey Venom GT $1.1M
The engineers over at Hennessey may need a little less testosterone and a little more Thorazine. That hasn't stopped them, though, from achieving something that most physicists consider impossible.
They say everything is bigger in Texas and the Lone Star State-based tuning house is happy to that statement correct.
The Venom GT is filled with enough horsepower to stretch across the Lone Star State itself, packing a mind-blowing 1,500 horsepower mined from a poisonous 7.0-liter twin-turbo V8 engine. 0-60 is pegged at two seconds. The riotous acceleration doesn't end there, though, the Venom claims a top speed of 287 mph.
If the CERN particle accelerator keeps having trouble they might just think about driving a Venom GT around it instead.
8. Zenvo ST1 $1.2M
Denmark may only be known for its massive butter consumption and as the setting of Hamlet. But the Zenovo ST1 is definitely 'to be.'
Well, only three of them will actually 'be.' Apparently because they need to be hand carved from adamantium and Thor's hammer.
The results though are impressive, the ST1 is propelled by a turbo supercharged 7.0-liter V8, which might have been nicked off of a P-38 Lightning. This monster powerplant is good for a top speed of 233 mph and a 0-60 time south of three seconds.
No wonder it looks so angry.
7. Maybach Landaulet $1.3M
Monarchs and rappers can rest easy, because this next car may have been designed for them. It'snot  as fast as the other cars on this list, but it does come with far more appointments and luxuries.
For $1.3 million dollars, you get a hermetically sealed chauffeur compartment, which will isolate you from the commoner you have employed to drive you about. You also get a fully retractable roof which allows you to wave to your adoring subjects as you drive by.
When you tire of such attention you can open up your refrigerator and pull out a bottle of Crystal or the distilled blood of a pope and relax.
Presumably the button that says, "guards seize him" is an optional extra.
7. Ferrari La Ferrari $1.3M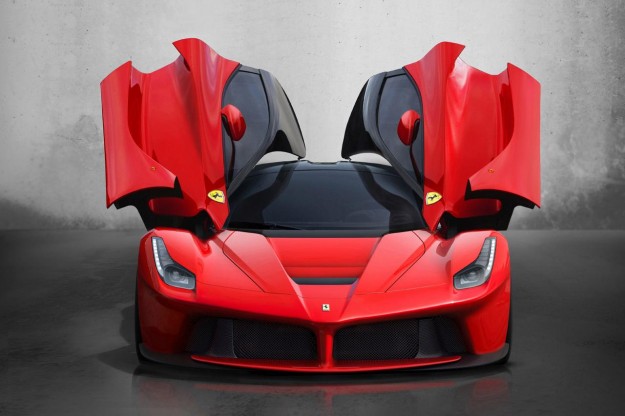 Italian for 'the Ferrari," the Ferrari the Ferrari's name might be a bit silly. But the everything else is absolutely spectacular.
In true Italian fashion, at the heart of this stallion is a V12. By itself, this mighty heart pumps out 789 horsepower. But if you hit the defibrillator and electrocute that sucker, with the Kinetic Energy Recovery System (KERS), you can get up to 950 hp.
Because this thing weighs rather a lot less than your average Ford Focus, the tidal wave of power will drive you to 120 mph in less than seven seconds; faster than most cars can get you to 60 mph.
If Ferrari hasn't already called to offer you one of the 499 LaFerraris it has built, you are out luck. You are just going to have to look for one secondhand on the Dubai Craigslist.
7. Pagani Huayra $1.3M
Welcome to the best car that no one can pronounce. Named for the Incan "God of Winds," the Huayra's (why-rah) offers performance that a deity would be envious of.
Powered by an AMG 6.0-liter V12 with two turbochargers, the Huayra is good for 230 mph. And at 740 lb-ft, more torque than your average pantheon.
Styling is very Pagani. The car boasts gullwing doors, the patented Pagani antenna/side mirrors and some of the best leatherwork you will ever see.
For the low, low price of $1.3 million, this car is such a bargain you might want to buy two.
6. Koenigsegg Agera R - $1.6M
Rumor has it that Koenigsegg rents out Volvo's testing track for its chassis tuning test runs.
Apparently, while the Koenigsegg team roars around the circuit, Volvo execs watch from their offices, drink espresso, and remark at how unsafe the Agera R is. We doubt this story is true. But it makes the Agera R that much more appealing. We like to imagine the Koenigsegg horrifying the safety-obsessed Volvo brass.
And what frightens the Volvo folks so? It's the Agera R's 5.0-liter, 1,115 hp twin-turbo V8 that creates a king's ransom in torque – 885 lb-ft to be precise. 60 mph is quickly conquered by the Agera R in 2.9 seconds. And the Swedish wedge of carbon will hit a maximum top speed of 260 mph.
Interestingly, the Agera R can actually hit 270 mph. In order to do that, though, owners need to sign a waiver for the speedy Swedes to unlock the speed limiter. This is an option, why? Of course I need to go 270. You don't even need to ask, Jurgen.
5. Lamborghini Reventon $1.61M
The Reventon is truly a stealth fighter for the road, even if those looks would attract more attention than Kate Upton wandering into a middle school.
This Lambo's name and personality both come from a famed Spanish fighting bull that killed an equally legendary bullfighter.
Drivers might be in just as much trouble when they strap into this 650 hp rocket. It has purportedly topped 220 mph in Dubai and will do 0-60 in 3.4 seconds. Oley!
Along with all this performance, you get one of the coolest supercar interiors out there. If it weren't for the Lamborghini badges, you would be convinced that you are in an F-22 Raptor.
At $1.6 million the Reventon is the second most expensive Lamborghini behind the ultra-rare Veneno, not including the track-only Sesto Elemento ($2.2M) and the concept Aventador J ($2.8M).
4. Aston Martin One-77 $1.8M
$1.8 million can get you a lot of stuff. You could buy a couple of nice houses or 450,000 pounds of bacon. But it can also get you exactly one Aston Martin One-77.
The British supercar comes packing a 7.3-liter V12 engine that ever so politely doles out 750 hp and 533 lb-ft. Top speed is clocked at 220 mph while a 0-60 sprint takes 3.4 seconds.
The One-77 is the ultimate expression of the refined supercar. This is not for the lead singer of future Metallicas, but for a particularly discrete and tasteful Saudi Prince – or perhaps James Bond.
Yes, $1.8 million is a lot to ask. But when you're Aston Martin, and only building 77 examples of the car, it's par for the course.
4. Pagani Zonda Cinque Roadster $1.8M
Unfortunately, the Aston Martin One-77 has to share fourth place with another car. Fortunately, that car is the Zonda Cinque Roadster, made by Italian boutique automaker Pagani.
So why should you pay half a million more for a Zonda than Pagani's newer car the Huyara? For starters, the Zonda Cinque is made out of the most awesome materials known to man: carbon fiber and titanium. This makes it stronger and lighter than Delta Force. Seriously, it weighs less than a Mini Cooper but has an AMG V12 that produces 678 hp.
That makes this cabrio capable of 210+ mph and eye-popping – perhaps literally – track speeds.
Oh, and Pagani only built five of them, so happy hunting.
3. Bugatti Veyron Grand Sport Vitesse $2.6M
The Bugatti Veyron might be getting a bit old at this point. But, the other cars on this list are going to have to show some respect for their elders.
The latest and greatest Veyron the Grand Sport Vitesse draws a hyper-godly 1,200 hp from its W16. This is good for a top speed of 254 mph, making it ever so slightly slower than its older brother, the Bugatti Veyron Super Sport. But unlike that car, you can experience this speed with the top down.
I wouldn't recommend that, though, unless you are interested in discovering what it feels like to be aerodynamically scalped.
2. W Motors Lykan Hypersport $3.4M
Didn't know that Lebanon had a car industry? Then you are missing out, because the W Motors' Lykan Hypersport is one of the most impressive things on four wheels.
Not many details are out about this car yet, but it is purportedly good for 245 mph, and a 0-60 time of 2.7 seconds. Amazingly, this acceleration comes courtesy of a turbocharged V6, which, compared to some of the mammoth V12s sported by cars on this list, seems positively demure.
If those performance figures don't jump off the page, don't worry the Lykan Hypersport has an ace up its sleeve. W Motors didn't just focus on performance, they have the tech madness and sheer excess side of hypercars covered.  Those handsomely aggressive LED lights are covered in diamonds, and the information about how far over the speed limit you are going is conveyed by a holographic display.
All I can say is, "Help me Lykan Hypersport, you are my only hope."
1. Lamborghini Veneno $4M
We should have expected something this mad for Lamborghini's 50th anniversary, but somehow we were still surprised. The Veneno is simply jaw-dropping.
It may not be the most beautiful supercar, but it is still one of the coolest. I still have to remind myself that I am actually looking at photos of it rather than a concept drawing or a computer generation.
But the Veneno isn't all looks and no go. The name is Spanish for "poison" and boy is that appropriate. The naturally aspirated V12 – because turbos are for sissies – hammers out 750 horsepower. This Italian thunderclap will bring to 60 in 2.8 seconds, probably faster than sound can leave your body during a terrified scream.
The big wing on the back is encouraging. Either it will help keep the car on the road or it means that the Veneno is in accordance with FAA regulations, which is good until you realize that means it was designed to fly. Gulp.
Want one? That's a silly question. Of course you do. Unfortunately, unless you are one of the three tremendously lucky souls who have already bought one, you are out of luck.
But hey we can all dream. After all, that's the point of this list.
Honorable Mentions:
Maybach Exelero $8M
While not a production car, the Maybach Exelero is the most expensive road-going car in the world. Initially commissioned by Fulda Tires in 2005, only one was ever made and has since been sold to rapper "Birdman." Apparently he got high and bought a rather expensive set of wheels.
Top speed is reported to be 218 mph with a reported 0-60 time of 4.4 seconds, courtesy of its twin-turbo V12 engine.
Lamborghini Sesto Elemento $2.2M
Italian for "sixth element" the Lamborghini Sesto Elemento isn't even out yet and of the 20 being made, all are already spoken for. Sorry.
The other bad news: it's not street legal in the U.S., meaning those folks in 'Merica who were fortunate enough to front the $2.2M bill can only enjoy them on the track. Oh, too bad!
1963 Ferrari 250 GTO $52M
With its recent sale price of $52 million, it seems like the 1963 Ferarri 250 GTO ought to top out on this list. But it winds up as an honorable mention because you can't actually buy one; it's not just that you can't afford it; there are none for sale.
So how does this 50-year-old Italian stallion come to cost more than some countries? Well, for starters there are only 39 of them. So they are quite rare.
Also each one is a bit different. They are handcrafted – and not in the modern sense in that some technician carefully screwed together some 3D-printed componentslBut rather in the sense of an actual florid Italian hand hammering the gorgeous aluminum bodywork.
They say that the Ferrari godfather, Enzo, had these built in response to the sublime Jaguar E-type. And while he may not have beat jag on production, $52 million might just be enough to buy all the Jaguar E-types left in the world.