New car technologies
Like navigation systems with real-time traffic reporting, make it easier and less stressful to get where you're going. Still others, like electronic stability control and curtain air bags, can help keep your family much safer on the road. Here's a look at some of the features you might consider.
MP3-player interfaces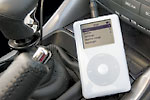 With the ongoing growth in portable audio systems, manufacturers continue to offer ways to marry their cars' audio systems with iPods and MP3 players. Many offer ports allowing users to plug in and play their music through the cars audio system, and charge the player at the same time. Some, like Mercedes-Benz, go a step further and offer an iPod docking station mounted in the glove box that not only provides power for the device but also enables the driver to use the car's steering-wheel-mounted audio controls to operate it.
Keyless ignition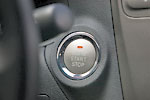 If you've ever had to fumble for keys in the rain while juggling bags of groceries, you'll appreciate keyless ignition. Available primarily in more upscale models, the best systems include a wireless transmitter in the key fob that unlocks the doors as you approach or touch the handle, even if the fob is in your pocket or purse. Then all you have to do is get in and push a button on the dashboard to start the car.
Navigation systems & traffic information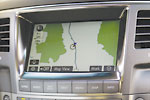 Nav systems, which can guide you with audible and visual turn-by-turn directions to virtually any address in the United States or Canada, have been around for several years. You simply key in a street address or choose from a menu of points of interest, including gas stations or restaurants, and the system does the rest.
The latest feature is real-time traffic information, which can alert you of a traffic snarl ahead and even direct you around it. But expect to pay a monthly subscription fee for this on top of the charges for the satellite radio service.
HD Radio
High-definition (HD) digital radio allows AM and FM broadcasters to send digital signals over the airwaves to provide the listener with CD-quality sound. Unlike satellite radio, there are no subscription fees for HD radio since existing regional radio stations provide the content. The more than 1,500 existing HD stations across the nation can even send up to eight separate signals on their wavelength to provide alternative content to their listeners. And because HD radio operates on a larger broadcast spectrum than satellite radio, there is less data compression when sent over the airwaves. Soon, HD radio will become a means of two-way communication between a vehicle and a broadcaster. For example, a vehicle would send out a signal identifying itself and the automaker could send back service reminders and recall bulletins. Other future applications being explored are digital stock tickers and digital content storage for replay. HD radio is available on some BMW models, and soon to be offered by Jaguar and Hyundai.
Electronic Stability Control
Electronic stability control (ESC) has the potential to save 10,000 lives per year, according to the Insurance Institute for Highway Safety. This could make ESC the most important safety device since the invention of the safety belt. It works by selectively applying the brakes at different wheels when it senses a skid to help keep the car on course. And as well as it works on cars, the benefits to SUVs-with their increased tendency to roll over-are even greater. The insurance institute estimates that 80% of single-vehicle SUV crash fatalities could be avoided with ESC. It will be required on all new vehicles by 2012 but is available on many new models now. Don't buy one without it.
Bluetooth
Bluetooth enables electronic devices to communicate with one another without wires. Available on many new models, Bluetooth turns your cellular telephone into a hands-free unit by using the car's speakers to hear the caller. It also automatically mutes the radio/CD when a call comes in and enables you to dial through voice recognition. You need a Bluetooth-compatible telephone to use these in car systems, but then all you have to do is say "Mom" if you want to call your mother.
Traction control
Traction control helps keep two-wheel-drive vehicles moving in slippery conditions. If it detects a drive-wheel slipping, it automatically applies a slight amount of brake pressure to that wheel and, if necessary and cuts back on engine power to stop the slipping. Traction control can also send power to whichever drive wheel has the most grip. But if neither drive wheel has grip, traction-control won't help. While ultimately not as good as AWD or 4WD in extreme conditions, traction control may be all you need in light rain or snow, and is especially helpful on rear-wheel-drive vehicles
Adopted From: www.consumerreports.org/cro/cars/new-cars/news/2007/08/new-car-technologies-8-07/overview/0708_new_car_technologies_ov.htm