Kibaki Tells Drivers to Help Stop Road Carnage
Updated: December 14, 2013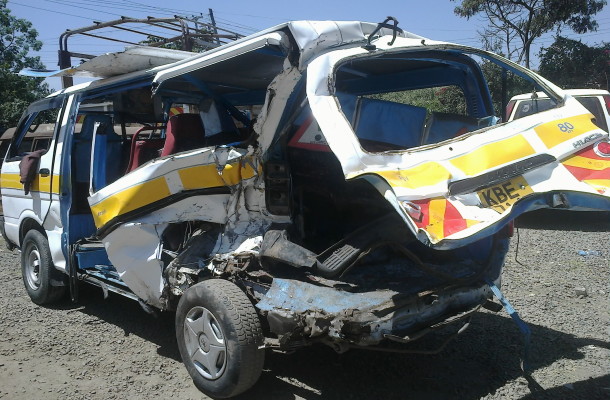 Former President Mwai Kibaki has urged motorists to work with the authorities so as to arrest the run away accidents being experienced on our roads everyday.
Kibaki said the real action against road deaths will not be delivered by the government alone, but through concerted efforts from all Kenyans.
His call comes in the midst of a petition by the Law Society of Kenya, that has moved to court to have Traffic Commandant Samuel Kimaru compelled to resign, for allegedly neglecting duty that has led to the death of thousands of Kenyans on the road.
"Thousands of our people have been disabled on our roads while many have lost their lives. Yet the solution to this continuing but alarming state of affairs on our roads can and should be found," Kibaki said.
The retired President said It was the duty of all Kenyans to shun reckless and drunken driving, for instance. "It is you and I who should remind public transport operators and especially public service vehicle drivers that they owe Kenyans the duty to ferry them to their destinations safely. Misplaced bravado or juvenile antics on the road must be scoffed at by all.
Kibaki added that as a people, we must remember that traffic laws and regulations are set to control drivers' behaviour on the roads in order to ensure safety of lives and property, and reduce the cost of production of goods and services for the market. He was speaking while commissioning the Sh1.9 billion Nairobi Western Ringroad, that was funded by the Japanese Government through JICA and implemented by the Kenya Urban Roads Authority.
"The commissioning of the Nairobi Western Ring Road will offer welcome relief by decongesting city roads and saving motorists valuable time. Indeed this and similar by-passes are and will remain an enduring testimony of the government's commitment towards providing adequate and quality roads in support of Kenya's Vision 2030.
"An efficient road infrastructure is a prerequisite to faster movement of goods, services and persons. This spirit informs the various interventions the government is implementing in the road sector including ensuring speedy and timely rehabilitation and reconstruction of deteriorated sections of our roads.
"On this list of priorities, it is clear, is the construction of bypasses and missing links in our urban centres. The Government deserves every support in this very important endeavour, Kibaki added.
Nairobi Governor Evans Kidero revealed that his government was working with the roads authorities to open up more bypasses, adding that the populous Eastlands areas will be unclogged with the construction of a dual carriage way of Outering Ring Road.
Kidero also said that the county government had deployed 300 traffic Marshall's who have been undergoing training for the past three months, who will lend a hand in controlling traffic in the city and its environs.
Roads Cabinet Secretary Eng. Michael Kamau said that his ministry was working closely with other stakeholders And development partners to ensure the decongesting of the city is carried out successfully.
News Source: theSTAR