Six Killed as Truck Rams Cars, Pedestrians
Updated: December 14, 2013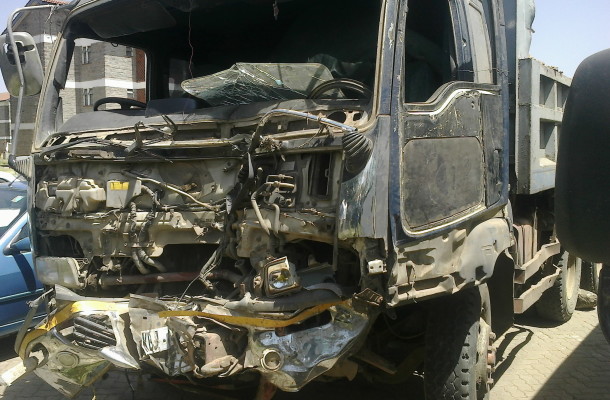 Six people were killed and 11 others injured, five of them critically, after a truck rammed six saloon cars and knocked down pedestrians.
The truck driver hired by Kenya Power Company to ferry aluminium and copper wires to Wamba in Samburu County lost control of the vehicle near Subuiga in Meru County. It then descended downhill towards Isiolo town during the accident.
Brakes failed
''According to the driver, the vehicle's brakes failed as he drove towards Isiolo from Subuiga. He negotiated his way towards Isiolo but it overturned near gate to Isiolo Boys' High School,'' said a traffic police officer.
Between Millennium area and the scene of the accident, about a kilometre, the truck knocked six cars, mostly taxis, a motorbike and pedestrians. Four drivers, a motorcyclist and a pedestrian died. Most of the injured were pedestrians.
The accident occurred Thursday at around 7.30pm. The driver of the truck, said to be a first timer on the route, escaped unhurt while his loader was injured. The latter is out of danger.
Black spot
The truck's brakes failed at Kisima, one of the country's black spots. Kisima is about 10 km from the foothills of Mt Kenya, and the steep towards Isiolo is one of the most dangerous road stretches in the region.
The driver was however hailed for his bravery as he overturned the vehicle, after realising he was about to enter Isiolo town. The move prevented possibility of having more casualties. ''Definitely more people would have died had the vehicle not stopped around Isiolo Boys' school.
The driver did a good job in this respect,'' said Isiolo West Chief Hassan Hokicha. Isiolo County Commissioner Wanyama Musiambo yesterday confirmed six deaths but added that the death toll could rise. ''The six killed died either on the spot or in hospitals within Isiolo," said Musiambo who was accompanied by Governor Godana Doyo.
The injured were admitted at the privately-run Waso Nursing Home, Mater Care Hospital in Isiolo, Kirwa Catholic Hospital and Charia.
The injured could not be taken to either Isiolo District Hospital or Meru Level Five hospital due to the ongoing strike by medics.
News Source: STANDARD DIGITAL