Man Busts Wife Fondling With Her Lover on Car Bonnet
Updated: December 15, 2013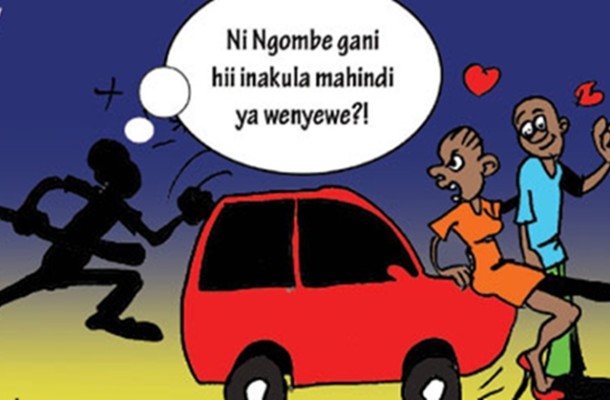 A woman is regretting her actions after her husband sent her packing after he caught her red-handed making out with her younger lover on a car bonnet.
The mother of two, an air hostess, had only lasted in her marriage for five years. However, an infidelity bug, following her inability to resist advances from her new 'hot' colleague, pricked their seemingly happy marriage.
Her extra-marital affair matured gradually when she was put in the same routine-shift with the said young lad at her work place. She had allegedly been eyeing the young man all along. Before she realised it, she was head over heels in love with the him.
Little did she know she was putting her marriage in jeopardy. It didn't take long before the clandestine affair blossomed. She couldn't shut her mouth for once, in the presence of her girlfriends.
She bragged how her secret boyfriend was the best thing ever happened to her since her husband had become "useless". She had taken advantage of her understanding husband who she had severally lied to that her work schedule was hectic, thus, she often went home late.
Little did her husband know that she was spending time with her secret lover whenever she claimed she was working late. As time went by, the secret love affair flourished. The young lad even made it a habit spending evenings and free time with her and dropping her at her gate.
Lovey-dovey
However, on this material day, luck was not on her side. It was almost late night when she was dropped by her boyfriend.
Just after dropping her, as they hugged to say bye to each other one thing led to another and before long, the two began kissing. With caution thrown to the wind, the lovey-dovey went on oblivious of the sleeping dog at home. Before long, her blouse was unbuttoned with her back firmly pressed on the car bonnet. As the two noisily made out, the woman's husband had been tipped off by a neigbour about the goings-on at his gate — in darkness. By the time he rushed to the scene, the two had disentangled but still fumbling with her blouse as she buttoned up. He descended on the young man with kicks and blows as he attempted to protest his innocence. The shocked wife kept on pleading with her husband not to beat up the young man and requesting him to give her time to explain.
The young man, upon being released, jumped into his car and zoomed off. Nonetheless, she was to suffer the consequences of her own choices when he ordered her to pack and go, first thing the following morning. The husband has allegedly filed for divorce as he seeks full custody of their two children.
News Source: STANDARD Digital