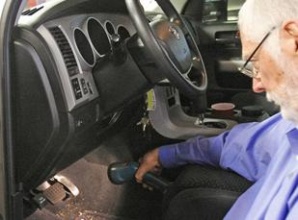 One thing to keep in mind when reading about the Toyota recalls (another 2.1 million today) is the company is talking about used models.
The recall of 2.1 million used Lexus and Toyota models is significant to both used car sellers and buyers. You need to make sure the work has been done whether you are a buyer or a seller.
The recall is basically to fix pedal problems that could result in unintended acceleration of your vehicle. The mats in used Lexus and Toyota models could trap the accelerator, which can be a pretty scary thing. I've never had a mat trap an accelerator but I have driven vehicles with gas and brake pedals placed closely together and that can result in both being pushed at the same time if you are not paying attention.
The following models are being voluntarily recalled (which basically means the government told the car maker to get them fixed or else):
Approximately 603,000 2003 through 2009 4Runner
Approximately 17,000 2008 through 2011 Lexus LX 570; and
Approximately 761,000 2006 through 2010 RAV4
Approximately 20,000 2006 and early 2007 Model Year GS 300 and GS 350 All-Wheel Drive vehicles
Approximately 372,000 2004 through 2006 and early 2007 RX 330, RX 350, and RX 400h vehicles
Approximately 397,000 2004 through 2006 Highlander and Highlander HV vehicles
A seller needs to have paperwork handy showing the repairs have been finished before selling the car. A buyer needs to have the seller produce the paperwork and also check that the work has been done via CarFax or AutoCheck.
Should these latest recalls turn you off to purchasing any of the announced models? Not if the work has been done. They'll be fine to drive (assuming they pass a standard independent inspection before purchase).
Article source: http://usedcars.about.com/b/