Syokimau Train Services in Favour of Matatus, Private Cars
Updated: December 2, 2013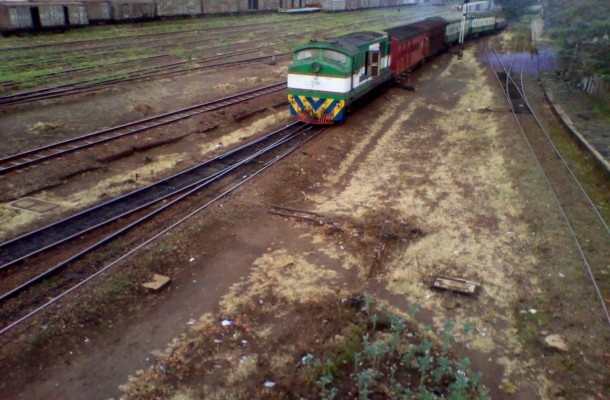 When the Syokimau train service was launched in November last year, its major aim was to ease traffic on Mombasa Road.
Residents of Syokimau, Mlolongo, Athi River, Kitengela and surrounding areas were to benefit from the Syokimau Railway Station, which has ample parking that was projected to keep 2,500 vehicles out of the Nairobi central business district daily.
Syokimau Railway Station was the first to be opened in the country in 80 years.
But hardly one year down the line — traffic gridlock along Mombasa Road, the main highway linking the city centre to Jomo Kenyatta International Airport — are still a familiar, daily sight, with many city residents shunning the train service.
Economic cost
Nairobi Deputy Governor Jonathan Mueke says poor infrastructure and governance have led to various bottlenecks, including traffic jams, whose economic cost has been estimated to be Sh50 million per day.
Residents of Syokimau, Mlolongo, Athi River and Kitengela interviewed by The Standard on Saturday said the scheduling of the train services keeps them away.
Despite Kenya Railways Corporation (KRC) lowering its fare, many residents still prefer matatus or private cars.
In an attempt to attract more customers, the Kenya Railways has quietly halved fares and scrapped all the daytime frequencies of the Syokimau commuter train service after its strategy targeting the middle class hit a snag.
It now makes three round trips, down from five when it began operations.
When it launched its services last year, KRC charged between Sh100 and Sh120 one way for the 18-kilometre journey that takes about 30 minutes. The pricing was met with resistance by commuters on grounds that the train service cost significantly more than matatus.
The train now operates the 7.05am and 9.40am peak and off-peak services from Syokimau to Nairobi in the morning, and the 5.50pm and 7.45pm peak and off-peak services from Nairobi to Syokimau in the evening.
More routes
KRC now charges Sh30 for a one-way ticket between Syokimau and the central business district down from the previous Sh50. A return ticket during peak hours is Sh100. Matatus charge between Sh80 and Sh150 one way.
Stephen Kinuthia, an accountant at a law firm based in Nairobi's Upper Hill area, says it is difficult for him to use the train because he would be forced to use a matatu from the City Centre to his office.
"If I use the train it means I will be connecting from Railways to Upper Hill. That would be inconveniencing since I would have branched at Bunyala Road. I use the train on weekends just because my children enjoy it," said Kinuthia, who lives in Mlolongo.
"I leave Mlolongo at around 6am. I give myself two hours to arrive at my work place. If there was a direct train to Upper Hill I could have considered it.
" Kenya Railways now plans to introduce train services from Nairobi Central Station to various areas in the city such as Upper Hill, Westlands and Hurlingam.
Asked if he was aware that a train journey from Syokimau Station to the City Centre would have cost him only 25 minutes, Kinuthia nods in affirmative, buts says he is accustomed to driving.
David Kimeli, who works in Westlands but stays in Syokimau, says despite it being cheap, the train services are inconveniencing.
Well organised
Kimeli, a student at a city college, says should he decide to use the train, he would miss it in the evening since he would still be in class when the train will be making its last trip.The last train leaves Nairobi at 7.30pm. Kimeli leaves class 30 minutes later.
But Hellen Mutunga says train services are economical and help her plan her day well.
Hellen, who operates a grocery in Syokimau, says she goes to town to buy her stocks at Wakulima Market using the 7.45am train.
"It is cheap for me since I can shop around and wait for the next trip. You cannot lose your belongings in this train. It is well organised and there is no crowding," she said. The Nairobi-Syokimau train also operates at less than its optimum capacity as witnessed by this writer during a ride on Tuesday from the City Centre to Syokimau. An attendant said Kenya Railways makes loses on the route as most seats remain unoccupied.
Acting Kenya Railways managing director Alfred Matheka says it will take at least four years before the firm starts making money from the Syokimau train services.
Other railway lines are being laid in Imara Daima, Makadara and Jomo Kenyatta International Airport.
The Makadara Station will be an interchange station expected to serve over 5,000 commuters a day. It will have parking space for about 500 vehicles. The Imara Daima Station will be a transit station serving over 2,000 commuters a day. It will have a parking space for over 150 cars. The 22-kilometre JKIA line will offer express services for airport passengers.
It costs Kenya Railways about Sh75,000 for a one round train. This means that a train must carry at least 750 passengers for a round trip to break even. The train has a capacity of 1,200 passengers one way, and Kenya Railways says it needs at least a load factor of 60 per cent to start operating profitably.
News Source: STANDARD Digital