Used-car prices drive to record highs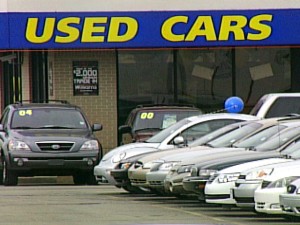 That used car of yours could be a big asset. With pre-owned vehicles in short supply, prices are highest in years. New-car prices are up, but for buyers with a vehicle to trade in, there's a sweetener in the deal.
Used-car prices are at their highest level in many years, and some who've been in the business for decades say they've never seen higher prices.
Trade-in values of used cars have jumped significantly, especially for small cars. Someone trading in 2009 Kia Rio in good condition, for example, can expect it to fetch about $7,500 this month, up 17 percent from its value of $6,400 in May, according to the National Automobile Dealers Association Used Car Guide.
At the same time, though, buyers of used cars can expect to see sticker prices as much as 30 percent higher this month compared with a year ago.
That kind of jump "really is unprecedented," said Jonathan Banks, executive auto analyst for NADA. "I can almost confidently say it has never happened before."
A confluence of rare conditions has contributed to the higher prices. The supply of used cars is down because new-car sales plummeted two and three years ago during the recession, Banks said.
The average car on the road now is 10.6 years old, up from 9.8 years in 2007, according to Polk, the auto data research firm.
At present, demand is high for used vehicles because with the shaky economy, some consumers are unwilling to open their wallets to purchase a new car.
On top of that, the earthquake and tsunami in Japan and high gasoline prices have created shortages of some new vehicles.
"Fewer new cars have been produced as a result of the crisis in Japan, which has shifted consumer demand to the used car market," Banks said.
Arnold Salinas of Converse knows all about shortages. He has been looking to replace his 2004 Toyota Sienna with a brand-new Sienna, but none of the three Toyota dealerships he visited in the San Antonio area had one.
So, he was checking out a Kia minivan instead.
Victor Junco, manager at Dallas-based Chacon Autos, which has a used-car location in San Antonio, said his company used to go to a single auction in search of used cars. Now it must hit two or three auctions to fill its needs.
In Houston, Ramsey Albaba, owner of Ramsco Enterprises and Ramsco Auto Sales, said that his business has slowed as used car prices have jumped "20 to 25 percent higher than we've ever seen before."
Albaba's company sells vehicles through a website and at a northwest Houston location.
"I specialized in Mercedes-Benz," Albaba said, "but now I can't touch them because I have to buy them for what I was selling them for a few months ago."
He's shifted his business to offer a wider selection of makes and models.
"Instead of just buying Mercedes-Benz, I buy Chevy, Ford, Dodge, Toyota," he said. "You have to go with the market."
Albaba recommends that those in the market for used cars wait until the fall to buy. That's when he believes prices will come down.
George Magliano, senior economist with IHS Automotive, a consulting and forecasting firm, agreed, saying, "Used-car prices are probably near their limit," although he expects prices to rise for a bit longer.
But by August or September, "I think you can expect prices to come off these highs," Magliano said.
Tony Dankowski said he doesn't particularly want to postpone a used-car purchase. He said he knows used-car prices are high, but that didn't discourage him from looking at a spiffy 2004 Nissan Titan V-8 crew cab pickup at Ancira Chevrolet on Friday.
"A man has almost got to have a truck, and I just moved to Bandera," Dankowski said. "I know there's a mark-up on these," but he said he was confident he could bargain hard and get the truck, priced at $14,995, for less.
Read more: http://www.chron.com/disp/story.mpl/business/7597055.html#ixzz1OUGJyv8o