Pakistanis Find Niche in Used Car Business
Updated: January 14, 2014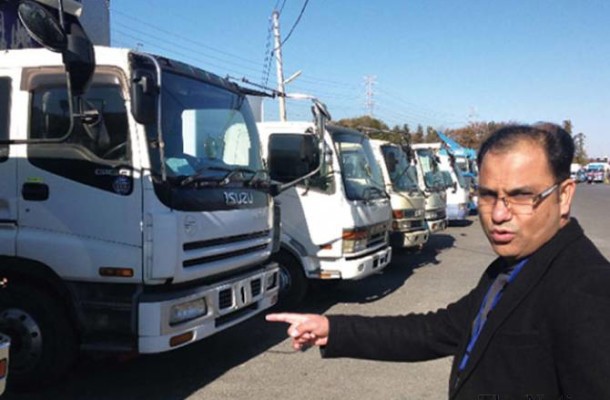 Led by Pakistanis living in Japan, exports of Japanese used cars are growing, thanks to their durability and high technology. In particular, Pakistanis at Ritsumeikan Asia Pacific University (APU) in Beppu, Oita Prefecture, have been very active in the used-car business, using social networking services to build up contacts around the world.
In late November, during the Tokyo Motor Show, the country's largest, a used-car auction in the city of Oyama, Tochigi Prefecture, attracted a lot of Pakistani buyers. A 38-year-old used-car trader, Hamlin Ozawa, who does business in Mito, Ibaraki Prefecture, had four vehicles up for auction, including dump trucks. Bidding on one of the cars started at ¥1.92 million, but quickly shot up to ¥3.85 million. Although the final bid didn't reach his asking price, Ozawa had a chance to talk to the highest bidder. The following week, he managed to sell another truck he bought for ¥850,000 for ¥2.6 million.
"I am making a profit of up to ¥5 million to ¥6 million a month," Ozawa said. "I have associates from Hokkaido to Fukuoka Prefecture, and get a call when they find salable used cars." Ozawa came to Japan to study at APU in 2002, but dropped out. He married a Japanese woman and, through contacts with compatriots, entered the used-car business.
The used-car industry is now in Pakistani hands. It's thought to have started when a Pakistani trainee who came to Japan in the 1970s sent four used cars to his home country. This triggered demand for Japanese cars in Pakistan, as well as the number of Pakistanis coming here. It is thought that Pakistanis account for more than half of the people in the used-car business in Japan.
Some of Ozawa's Pakistani friends and fellows from APU were at the auction in Tochigi Prefecture. One, Naheed Akhtar, 33, followed Ozawa into the business, starting a used-car company in Soka, Saitama Prefecture, last spring. He holds a master's degree in business administration from APU, and has Japanese nationality.
Akhtar worked at a major car merchandise company and a consultancy before starting his own business. He started participating in used-car auctions in late August, and has put up 25 cars for auction in three months, earning a ¥3 million profit on sales of about ¥30 million. One of those was a used truck sold for ¥4.5 million that he bought in cash from a distribution company in Aomori Prefecture after receiving a tip from a Pakistani friend that the company was considering buying a new truck.
"Every used car, even a junker, is money. I want to start an export business in early 2014," Akhtar said.
Some of the used cars sold at auction are exported by people like Akhtar and Ozawa.
According to the Japan Used Motor Vehicle Exporters Association, the largest importer of used cars, including buses and trucks, in 2012 was Russia, with 140,000 units, followed by Myanmar with 120,000 and the United Arab Emirates with 88,000. The top 20 importers included six African nations. There is strong demand in former British colonies, where cars are driven on the left side of the road. In 2012, 45,000 used cars were exported to Kenya, followed by 23,000 to Tanzania and 18,000 to Zambia. By last October, exports to those countries had exceeded demand in all of 2012.
The growing demand caught the attention of Omori Kaisoten Ltd., a customs-clearance and distribution company based in Kobe, which has started shipping containers to East Africa. Used cars can be shipped via the service, which has caught Akhtar's attention.
"I have friends in Kenya, Uganda and Zambia in Africa that I met at APU, and they import used cars. I know Pakistanis in Dubai who are also from APU, so I can do transit trade (through Dubai). We always exchange information using Facebook and other social networking services," Akhtar said.
Ambitious Pakistanis are behind the good reputation of Japanese used cars around the world.
Source: The Nation