KCB Bankrolls New Season to the Tune of Sh43 million
Updated: January 29, 2014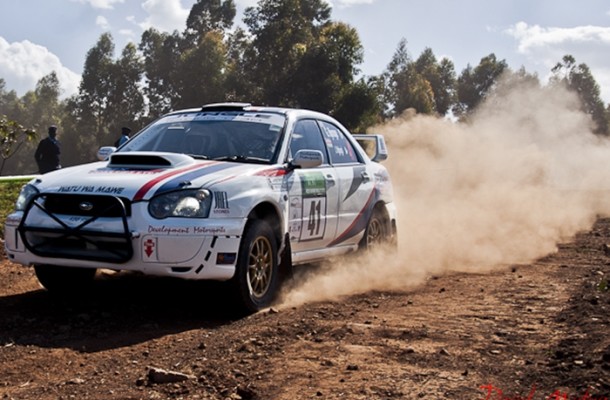 The 2014 Kenya National Rally Championship series got a boost from KCB as the calendar gets under way this Saturday with the Mombasa Motor Club-event.
KCB's new sponsorship deal, worth Sh43.5million, was disclosed yesterday at a function called to provide details of the forthcoming round of the KNRC in Malindi.
The previous deal amounted to Sh39.2 million. The KCB funds will help each of the seven clubs to run one round of the KNRC, while the bulk of the money goes to the organisation of the Safari Rally which falls directly under the Kenya Motor Sports Federation.
While presenting a cheque to officials of the KMSF yesterday, KCB Chief Financial Officer, Collins Otiwu, said the bank was happy to be associated with the sport celebrating the 12th edition since it first ventured into the series.
"KCB is happy to be associated with several sports in Kenya of which, rallying is one of the major attractions. We take pride in being part of the team," said Otiwu.
Former national champion, Carl Tundo, who is also the chairman of the Kenya Rally Drivers Association, expressed his gratitude to KCB for the support it has provided over those many years.
"I salute KCB and all other sponsors like ALS, ICEA Lions and Iway for making rallying a great sport not only for the drivers, but the massive interest from fans around the continent. KCB has made a big difference,'' said Tundo while talking to Daily Nation Sport from Nakuru on Tuesday.
Meanwhile, nearly 40 crews have entered the opening round of the 2014 KNRC series to be centered on Malindi.
Baldev Chager, the newly crowned Motor Sportsman of the year, is among the drivers who are expected to battle it out for glory in the rally expected to be run under hot conditions.
Tundo, who is waiting for clearance to bring in a new Proton rally car from Malaysia, will tackle the event in his previous championship winning car, a Mitsubishi Lancer Evo9 while the delivery of the new car is being processed.
CAVENAGH MISSING
Interestingly, former champion, Alastair Cavenagh is missing from the list of entrants for the first round.
According to a source, who did not want to be named, the former champion is not happy with some of the things related to the events here and may soon divert his rallying interest to South Africa after considering options that were more favourable to his style of rallying.
Interestingly, Cavenagh's name does not even appear in the list of those who have already been allocated door numbers for the 2014 season.
He was not available for his comment. The KCB event will start and finish in Malindi on Saturday from 6.30am. A total of six competitive stages will be repeated. The longest stage will be 25 kilometres while the shortest will be two kilometres.
Source: DAILY NATION