Kenya roads most expensive government asset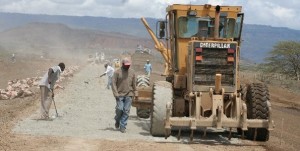 Roads in the country, valued at Sh2 trillion, are now the single most expensive asset for the government, Roads permanent secretary Michael Kamau, has said.
Speaking to the Nation after launching construction of the 8.4 kilometre Western Ring Road at Sh1.9 billion expected to ease congestion in the western part of Nairobi, Mr Kamau said the country has a network of about 160,000 kilometres currently.
He added that 14,000 kilometers of the roads are tarmacked and more are being improved.
Treasury has increased allocation to infrastructure over the years from Sh165.8 billion to Sh221 billion this financial year. About Sh24 billion is used annually for maintenance.
Roads minister, Franklin Bett, said the Thika superhighway and others within the city are meant to ease traffic congestion.
He pointed out that most roads in Africa converge in Nairobi leading to heavy jams, since the design and capacity have exceeded the volume of cars.
"Arterial traffic routes from Mombasa, Tanzania, Uganda, Rwanda, Burundi, South Sudan, Somali and Ethiopia which are part of the great north road that stretches from South Africa, direct great volumes of traffic into Nairobi," Mr Bett said.
He added that there is urgent need to resolve traffic congestion in the main streets of the city by expanding them.
"Junction improvement and construction of missing links and bypasses to channel traffic away from the central business district is now our main focus," he said.
He said the southern bypass will be launched next month while the northern and eastern bypasses are 80 per cent complete.
"The three bypasses with a total length of 83 kilometers will be a major milestone in the realisation of Vision 2030 in easing traffic in Nairobi," he said.