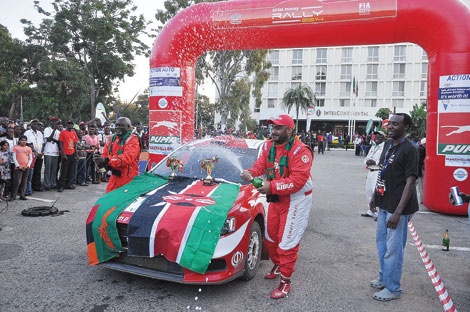 With two-time KNRC champion Alastair Cavenagh giving this Saturday's KCB Mtaani Eldama Ravine Rally a wide berth, his regular navigator Gavin Laurence will fill the void left by Dez Pae Morris at Kabras Sugar Racing. Laurence will be navigating Nakuru-based Onkar Singh Rai who is looking forward to a strong finish in his home rally.
It will be interesting to see how Laurence will adjust from a Proton ST2000 to a Group N EVOX, this being the first time he will savour the intensity of an EVOX car, having navigated Cavenagh in an EVO9 till last year. "The excitement is immense from this end. I'm not with Dez in this rally due to work commitments but will be sitting with Laurence.
I have a lot of support here so hopefully I can repay some of it with a good drive, Laurence being an experienced navigator," Rai told FeverPitch yesterday. Elsewhere, Subaru N16 speedster Manvir Singh Baryan will be back after missing the Machakos and Kiambu rounds. Baryan withdrew from Machakos following a mishap on recce and skipped the tour of Kiambu due to work commitments. "The number of entries should be good in Eldama Ravine.
I am excited but a little bit worried that I have not been in a rally car since Malindi, which was way back in February. Nonetheless, my target is top five (finish)," said Baryan. Meanwhile, Jaspreet Singh Chatthe of Kenya powered his Mitsubishi Lancer EVOX to second overall place in the Airtel Zambia International Motor Rally on Sunday.
The event, which is the third round of the FIA African Rally Championship, saw former continental champion Mohammed Essa win his third straight ARC home rally and reduce Ivory Coast's Gary Chaynes ARC lead to eight points. Dominated rally Essa, who dominated the rally from start to finish to move to 50 points, secured his third successive ARC home title after bringing his Madison General Subaru Impreza N16 home in three hours, three minutes.
Kenya's Chatthe savoured second place in a Team Kibos-sponsored EVOX ahead of Chaynes driving an identical car, which finished the rally four minutes 47 seconds slower than the winning time. Chatthe will be in Eldama Ravine this Saturday for the KCB Mtaani Rally, which is the fourth round of the Kenya National Rally. Chatthe is racing in all the ARC rallies after finishing third in the Sasol South Africa Rally and retiring in the Bandama Rally of Ivory Coast while leading.
Rwanda's Giancarlo Davite, also in an EvoX, shrugged off an array of problems that included two punctures in the last three stages to finish fifth overall and fourth in the ARC race.